Helix Sleep's email types
Helix Sleep doesn't stick to a simple, monthly newsletter. They send out a variety of email types and email series which – each in their own way – trigger the reader to take action. A smart decision that makes sure they don't miss out on any opportunity to maximize impact.
Let's have a look at which email types we found in our inbox.
Immediately after we subscribed to their email updates, we got a welcome mail from them. Awesome, that's a good start.
In the email, they reconfirm their mission statement and explain how they are different from other companies.
They also inserted the key benefits of  Helix Sleep: the 100 day trial period, 10 year warranty, free shipping, financing options and made in USA. Reinforcing these elements is a great way to remind people of why they should shop at your webshop.
The primary call to action is crystal clear. They want to get to know you so they can recommend the perfect mattress for you. Therefore, they want you to take their sleep quiz (see further).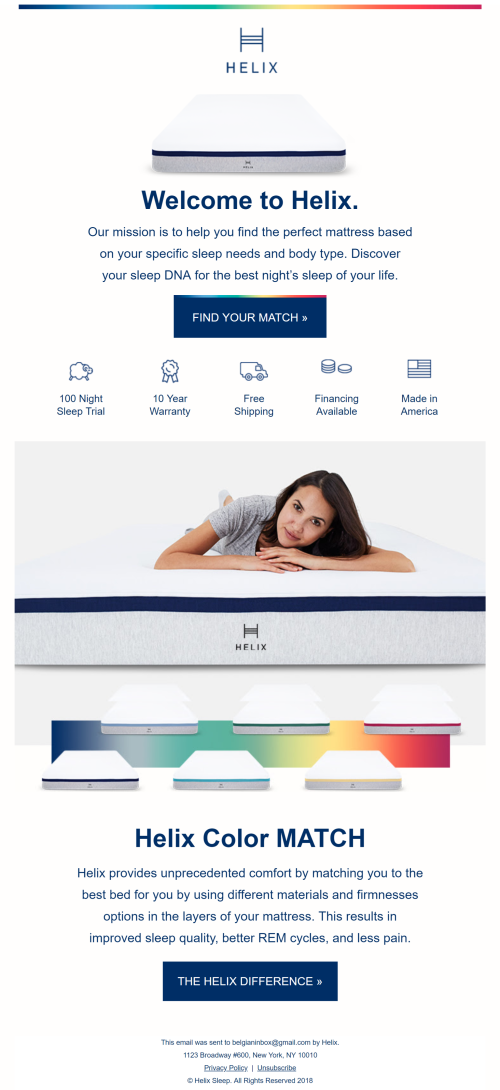 2 days after we subscribed, we got a second email. And this one… we absolutely love. 
Their key message focusses on the fact that a mattress can only be perfect if it's custom-tailored to your specific needs.
They enforce this message by visualizing real customer data (gathered from their sleep quiz) and showing the different sleeping habits of the average person. This makes you really curious about finding out your own sleep DNA and comparing it to average joe.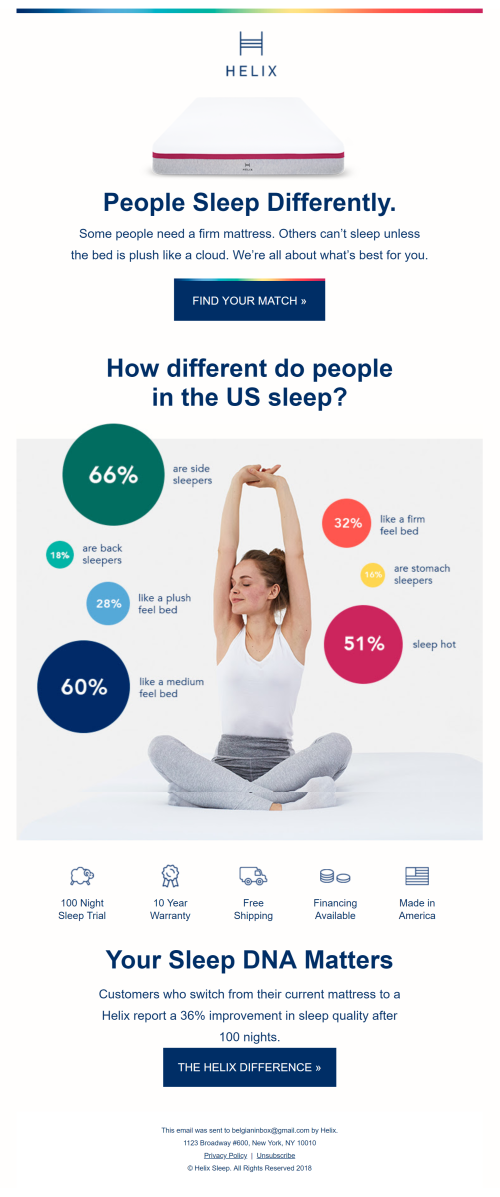 One week after the previous welcome email, they bring in the social proof.
Customers testimonials work really well because people tend to believe their peers more than the business who's selling the products.
Combined with a reminder of their key benefits, persuasive testimonials from happy customers can convince even the most hesitant prospects to take the next step: taking the sleep quiz. 
And so we clicked…

2. Sleep quiz abandonment-sequence
First of all, let's have a look at the setup of their sleep quiz.
Like every business, Helix Sleep needs to learn about their customers to make relevant product suggestions.
The sleep quiz is a very user-friendly questionnaire that creates a custom profile about you and your sleeping habits and then suggests the best type of mattress. It's a smart way of collecting crucial customer information while adding value to the customer experience.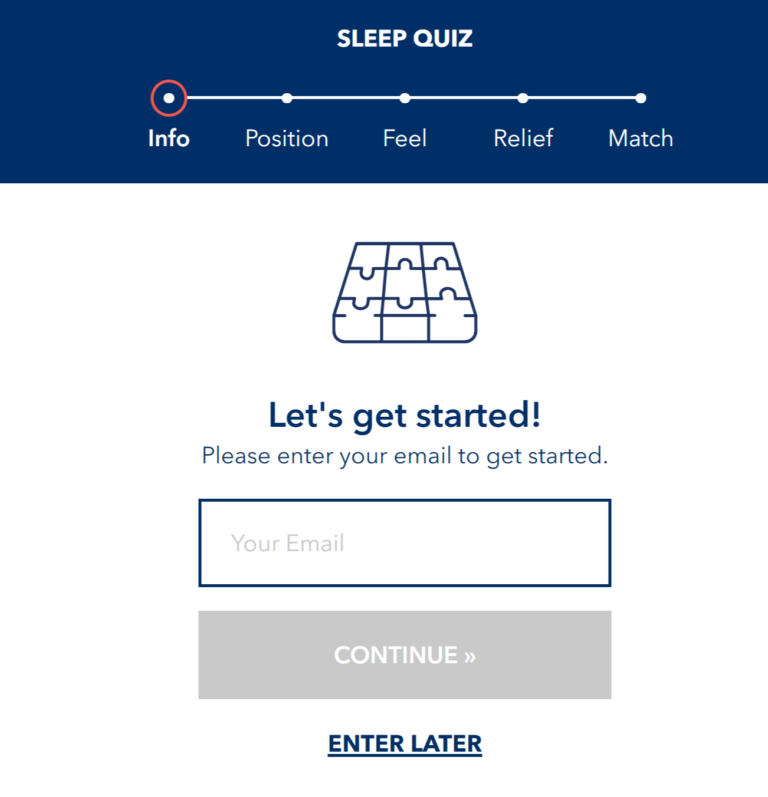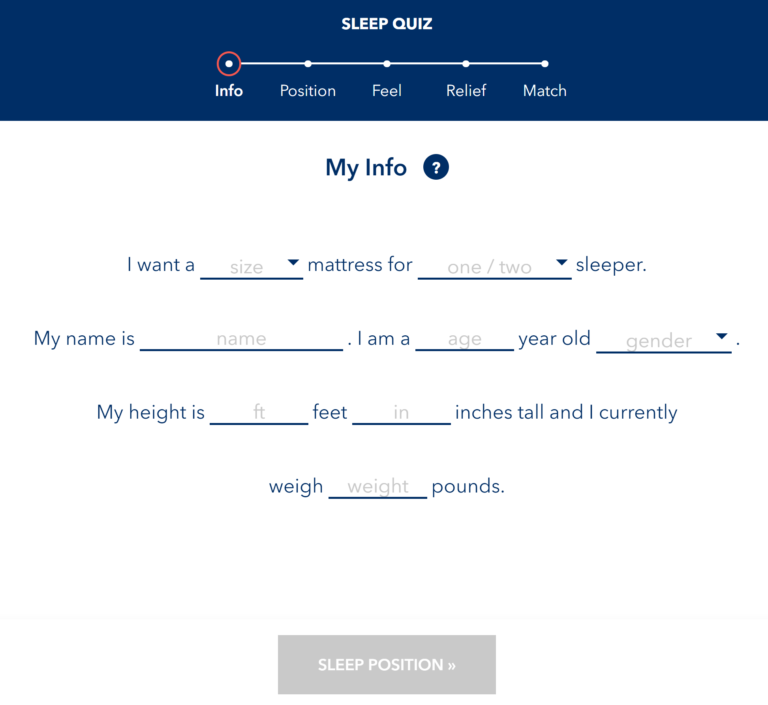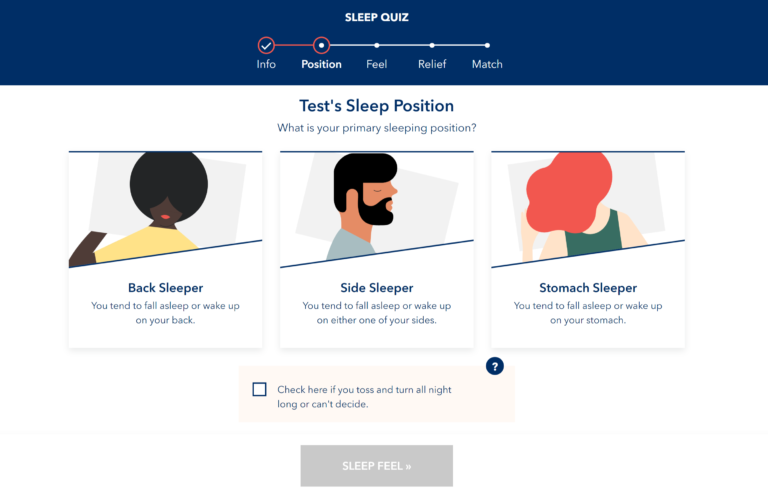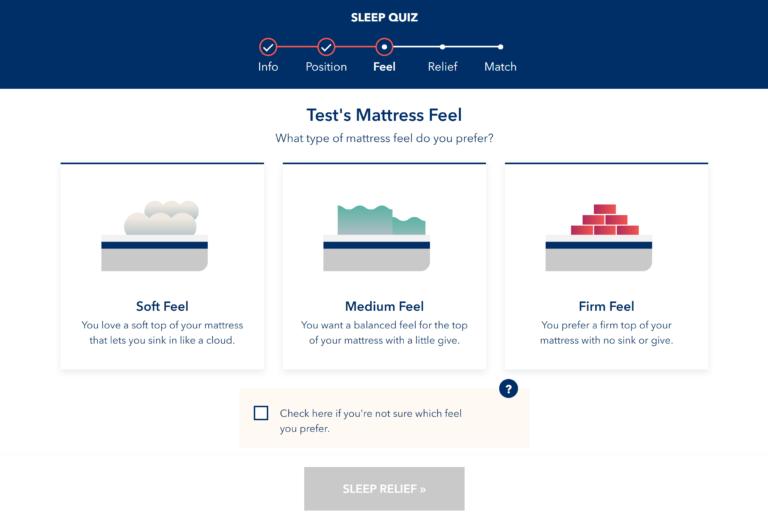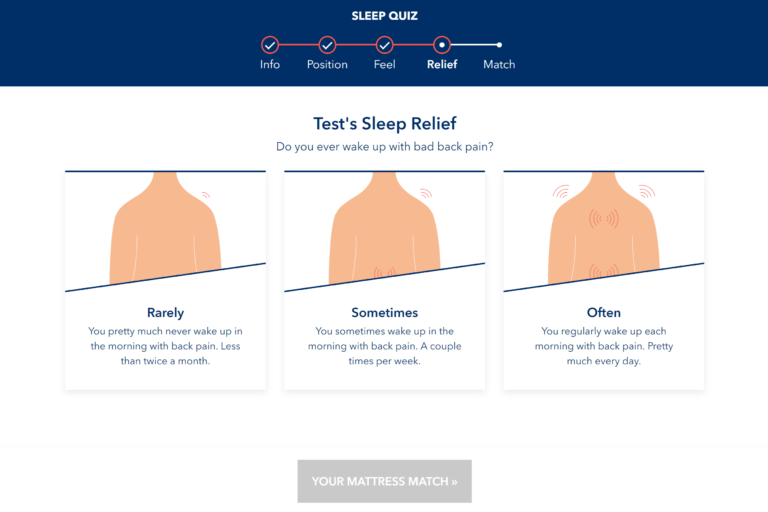 OK, back to the email series now.
Since we kinda had a feeling that this quiz would be a very important step in our customer journey, we started filling in our details but never finished it.
*Evil laughter*
And that's what triggered the 'Sleep quiz abandonment-sequence'.
A few moments after we had abandoned the quiz, we got this first email.
It's a simple, friendly reminder to the fact that we hadn't answered all the questions.
The short and powerful intro text reminds you why you should finish the quiz while their five key benefits increase trust.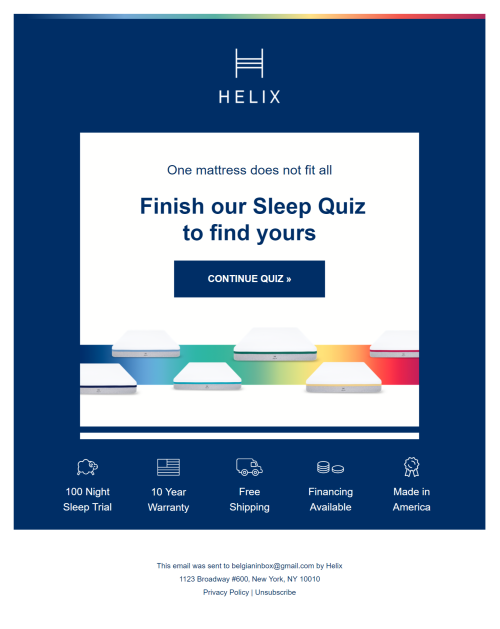 Flash forward one day and we find the second sleep quiz abandonment email in our inbox. Ok, they don't give up easily. That's good to see.
They decided to throw in a discount this time. Discounts are great to pull hesitating prospects over the edge. And since we started the sleep quiz, we kinda told them we have some interest in their mattresses.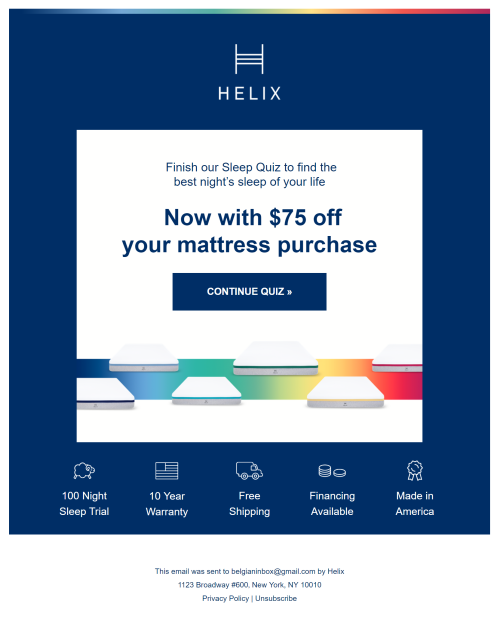 One day later, we got an email reminding us of the discount and asking us to finish the quiz.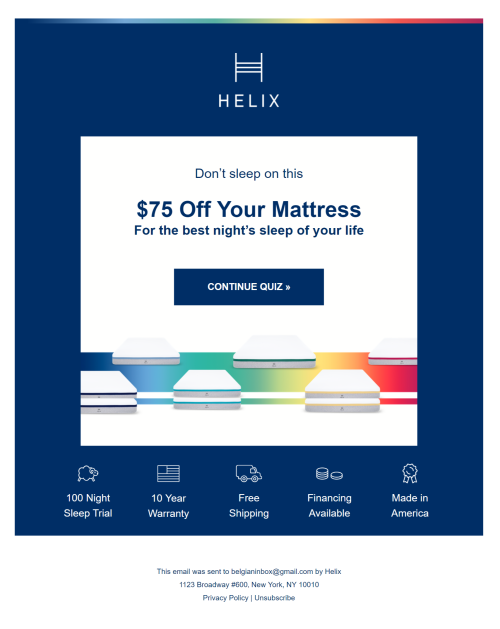 Another day later, we receive the last email of the sleep quiz abandonment series.
Like the previous email, they emphasize the discount but they also added urgency in the mix.
The subjectline 'Last call for $75 off' makes you realize that you've been lacking too much and the animated countdown timer only adds to that feeling.
If by now you still don't feel like finishing the quiz, they'd figure you're just not that interested anymore and they stop sending you.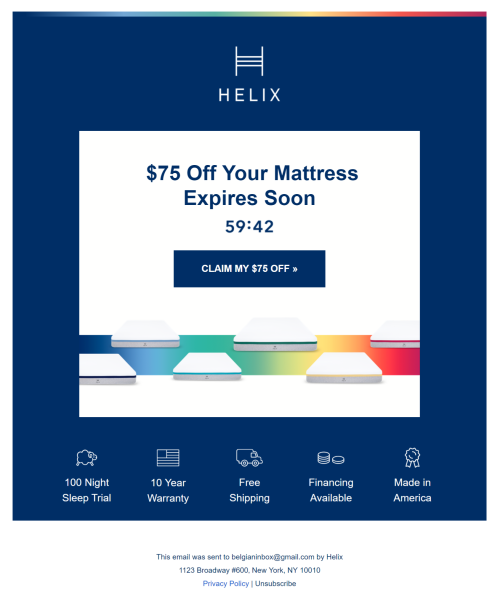 3. Shopping cart abandonment
A Baymard study shows that on average 69.89% of people put items in their online shopping cart only to leave it without completing their purchase. Now that sounds like a pain in the butt, right? 
Not for Helix Sleep because they are chasing that lost revenue and try to bring it back.
How? With a shopping cart abandonment email. Probably the most powerful and most effective revenue-boosting email you can send to your prospects.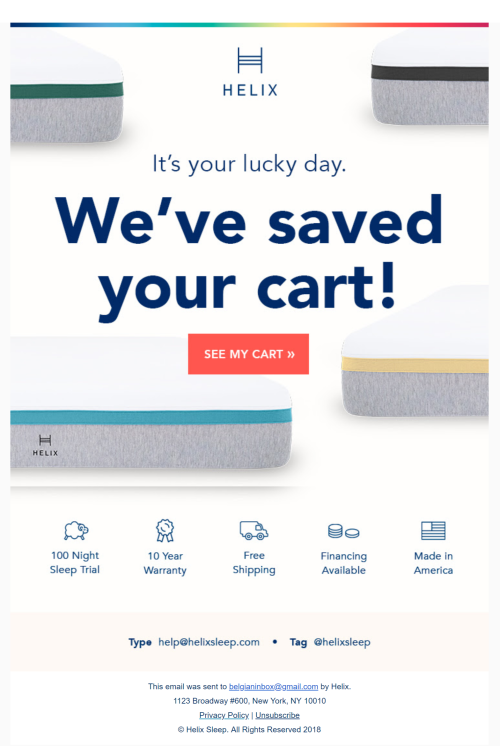 While it's great that they send out this type of email, we feel like there are still some optimizations that can be made.
Why not personalize the email more and include the products that we have forgotten?
Or maybe do some A/B testing on the subjectline? 'Your cart status' is boring and doesn't urge to go back to finish the purchase. 
One day later, we received another email from Helix. With this email they want to lower the treshold by explaining their financing options.
A smart insight but the lack of context makes it hard to understand why we have received this. There is no more reference to our abandoned shopping cart so we didn't really know what they wanted us to do.
Helix Sleep keeps investing in growing and improving their product range. And they love to show their latest products once they are ready.
Keeping your subscribers up-to-date about new products and arrivals is a great way to boost engagement, get feedback and spark a flame that might trigger someone to try and buy.
The best product emails give answers to the following questions:
What is the product?
How can this product help me?
How is it different from others?
How do I get it?
Let's have a look at some of Helix Sleep's latest launches and see how they did.




The design of these emails is minimal, clean and focusses on product presentation, features and benefits. 
Large, appealing product shots and short, enticing copy explain what the product is, how it differs from other brands and how you can benefit from it. Then, the call to action points to the place where you can get it. 
Even though these emails are beautifully designed and answer all questions about the products, we feel like they could have pushed it a little further. At this moment, they just drop the news without building up curiosity and anticipation. 
A great way to build up anticipation is by splitting up one email in a three email series: Prelaunch anticipation buildup, maintain the buildup and finally, the actual reveal.
Email monks features a great article on their website if you want to see some more examples.
One way to schedule email campaigns is by pinpointing special events and holidays on your content calendar and then creating a connection between your brand and the event. These types of emails are called topical campaigns.
Helix Sleep incorporates these emails into their email strategy. Here are some examples:
Mother's Day and Father's Day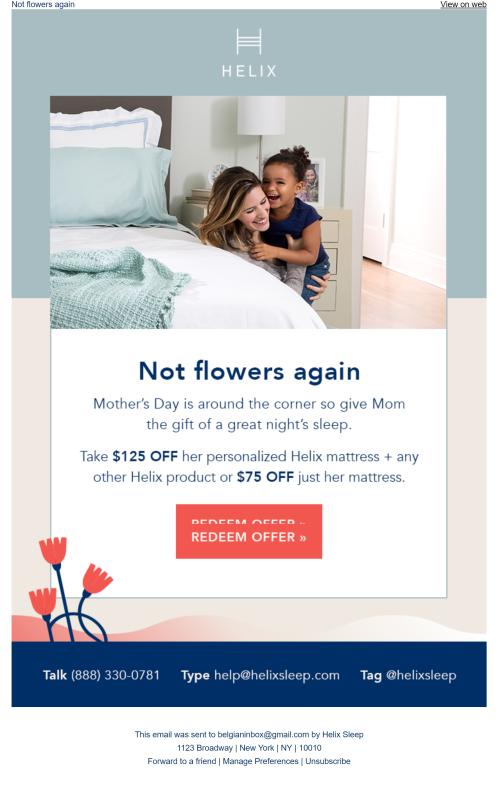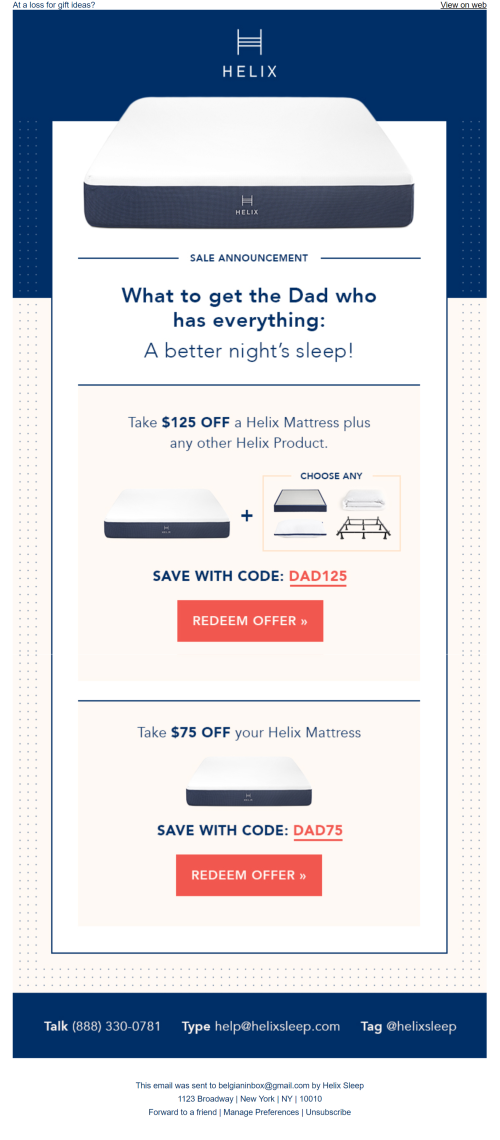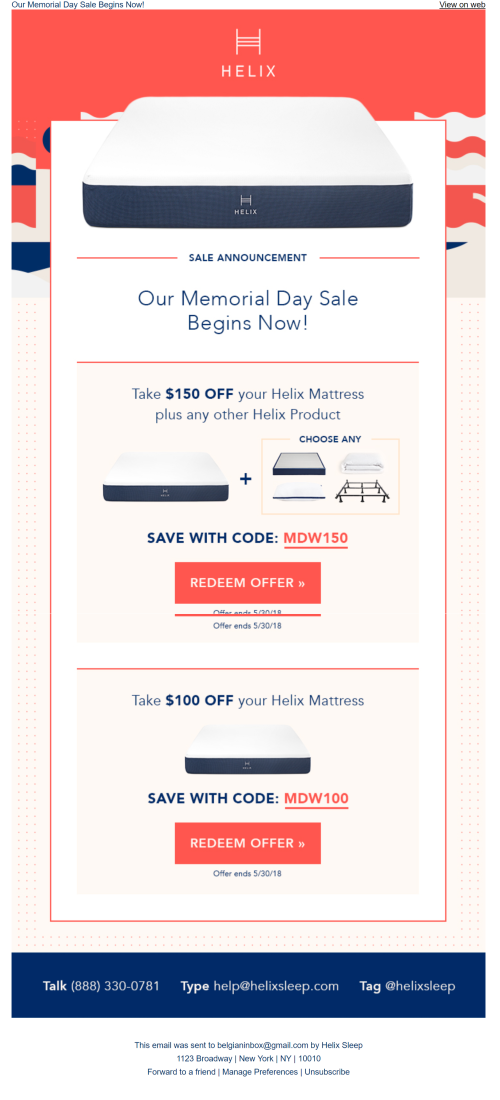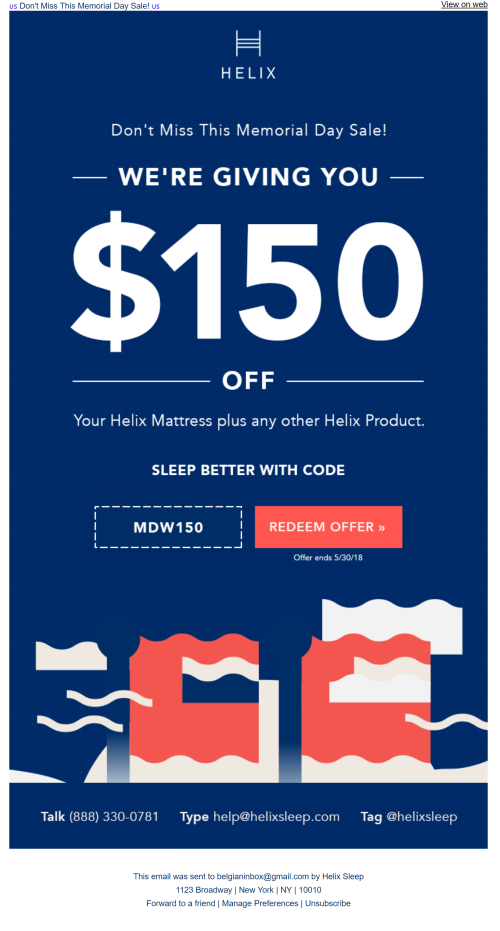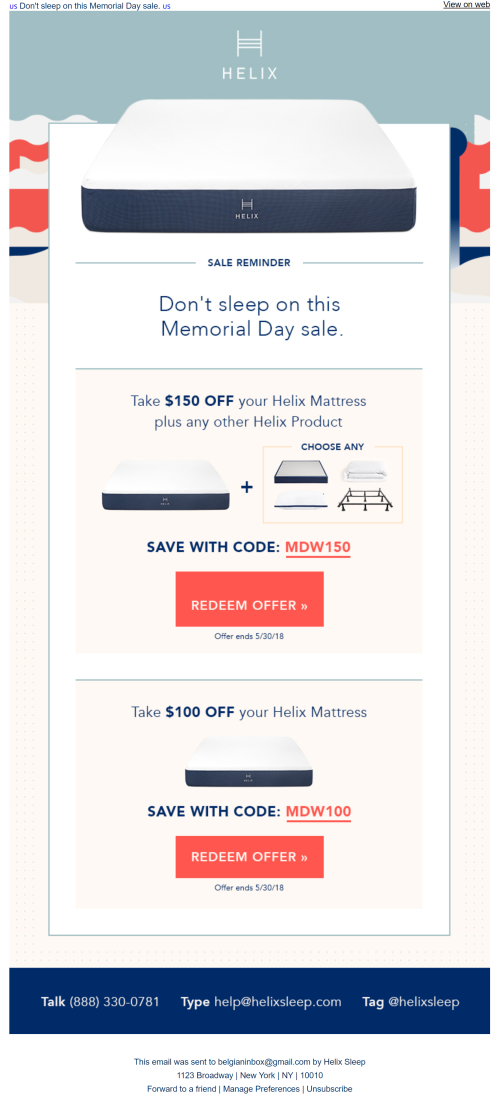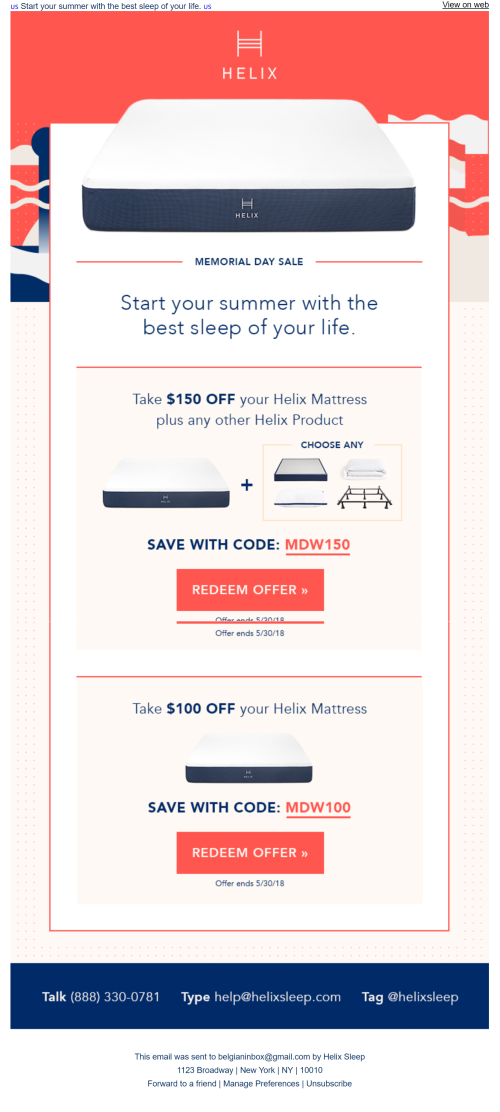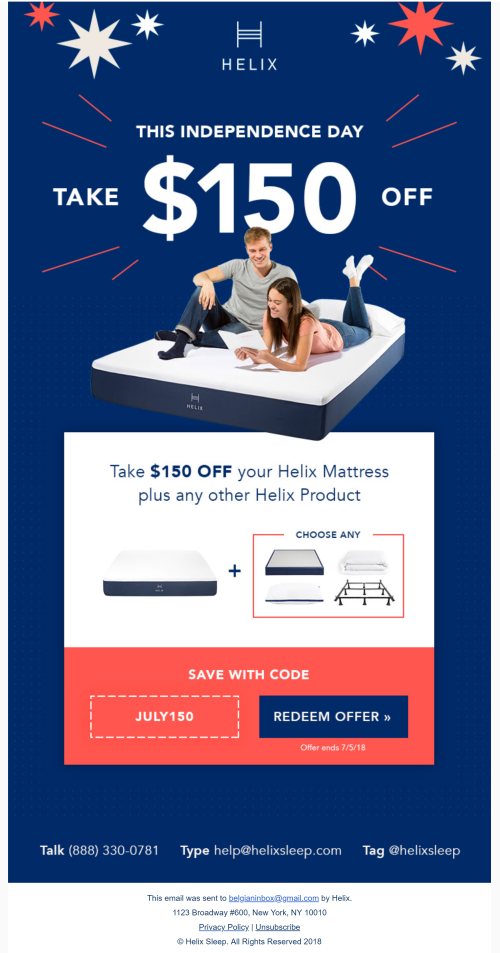 While we praise Helix Sleep's beautifully designed emails and straight-forward approach, we do feel that they haven't really paid attention to the meaning of the moment. It's clear that they jump on every opportunity to push discounts and promotions. A very commercial approach might be the wrong path to take in some cases.
No, a mattress is not the perfect gift for Mother's Day or Father's Day. It's expensive and unpersonal.
Memorial Day is a day to remember the ones that sacrificed their lives for their country. It's not a good day to start a sale and to say 'Start your summer with the best sleep of your life' or 'Don't sleep on this Memorial Day sale'. That's just plain wrong and could rub some people the wrong way.
Feeling the meaning of the moment is so important when you design topical campaigns. If you are just focussing on yourself and try to make a forced connection between your brand and the moment, you might damage your brand more than you want to.
Helix Sleep clearly understands the importance and impact of email marketing. Their emails are visually appealing, they have implemented best practises, and their automation flows strike the right note to get their prospects and customers moving again. Bravo!
But we feel like there are still a few improvements that can be made. We'll list some of our ideas below:
Create a better balance between inspirational and commercial content. Helix Sleep's emails are too sales-heavy. Why not mix it up with user-generated content, a look behind the scenes in the Helix Sleep's factory, a before/after movie of happy customers,…
Real connections are not made with pushy sales emails but by putting the customer and his problems/interests/preferences at the heart of your communication.

Mix up the tactics of the sleep quiz abandonment series.

 Offering a discount might not be the best way to go when prospects haven't really reached the 'I'm interested in buying'-phase. Nurturing them a little bit further with tactics like they use in the welcome email series (social proof, data visualization, practical information,…) might do miracles here.
More personalization. Even after we had completed the sleep quiz and gave away a lot of valuable information about our sleeping habits and preferences, we still got generic one-size-fits-all emails. Why not use the information we provided to create a unique experience? They already have the data…
Be careful with the approach of topical campaigns. Ignoring the deeper emotions behind a certain event and just seeing it as another chance to launch a sale might cause harm to the brand.
Build anticipation and spark curiosity when you're launching a new product. Just dropping the news and including all information isn't the best way to drive traffic to your website. Because why would someone click when all the information is already there? Try to include the most vital and inspirational information, build up anticipation and then give them the chance to discover the new product.
We're really curious about what you think of these emails. What are your favorite tactics? And how do you think they could improve their program?

We're looking forward to your comments!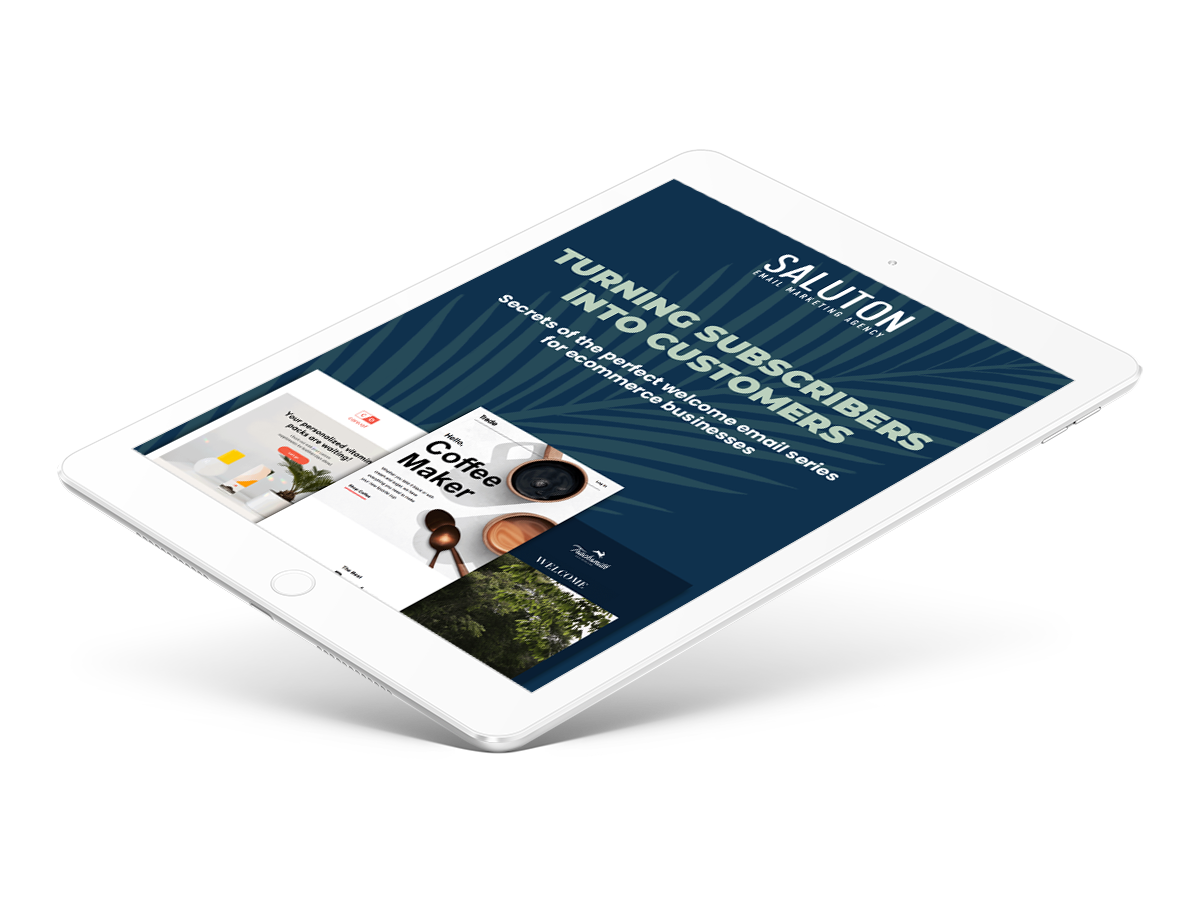 Want even more tips?
Sign up and get monthly email marketing awesomeness and our FREE GUIDE 'Turning subscribers into customers. Secrets of the perfect welcome email series' delivered to your inbox.