Summer is happening right now which means it's time to let your emails shine even brighter. Although the summer period might lead to less interaction with your emails, it doesn't mean you can't still reach out to your readers.
This sunny season is all about having fun, relaxation and exciting trips. So it's (always) a good idea to interact with your readers in an engaging and inspiring way. Whether it's about displaying your products in a summery fashion or creating engagement with a summer contest.
We understand the summer heat can set your mind on other things. Luckily we're here to cool you off with 10 refreshing emails that will hopefully inspire you as much as they did us.
Let's get to it!
Make your products rhyme with summer
The summer months are a great time to draw attention to your products or services. Even if they don't really have anything to do with summer. You can choose to showcase new products or highlight older products to prompt purchases. Whatever the case, just make sure your content is in line with those summer vibes to make your products stand out. With the right design and copy you can make everything thrive in the heat of summer.

We love how this email is set up as a helpful checklist. It's a great way to link their products to summer even if they're not exactly summer products (like the eye gel). Also, we like how they mix it up with other basic things to pack. The rosé is a nice touch! Overall, it's a visually captivating email with very simple copy without overdoing it all. Plus, it looks great on mobile.

This email's design really brings out that golden hour feel which we love. It's a great example of how to promote all-season products with a summer theme. With a simple, mobile-friendly design and easy-to-read copy, this email is perfect for those summer days. Whether you're stuck in the office or sunbathing by the beach.
Offer your readers a helping hand
Although summer is a popular season for most people, it does come with some downsides. Think about unpredictable weather, the uprise of insects or not knowing how often you should water your plants. Whatever it is, you can use this to your advantage. Explain to your readers how you can help them deal with those typical summer issues. After all, you're here to make your readers' lives more comfortable by sharing useful information.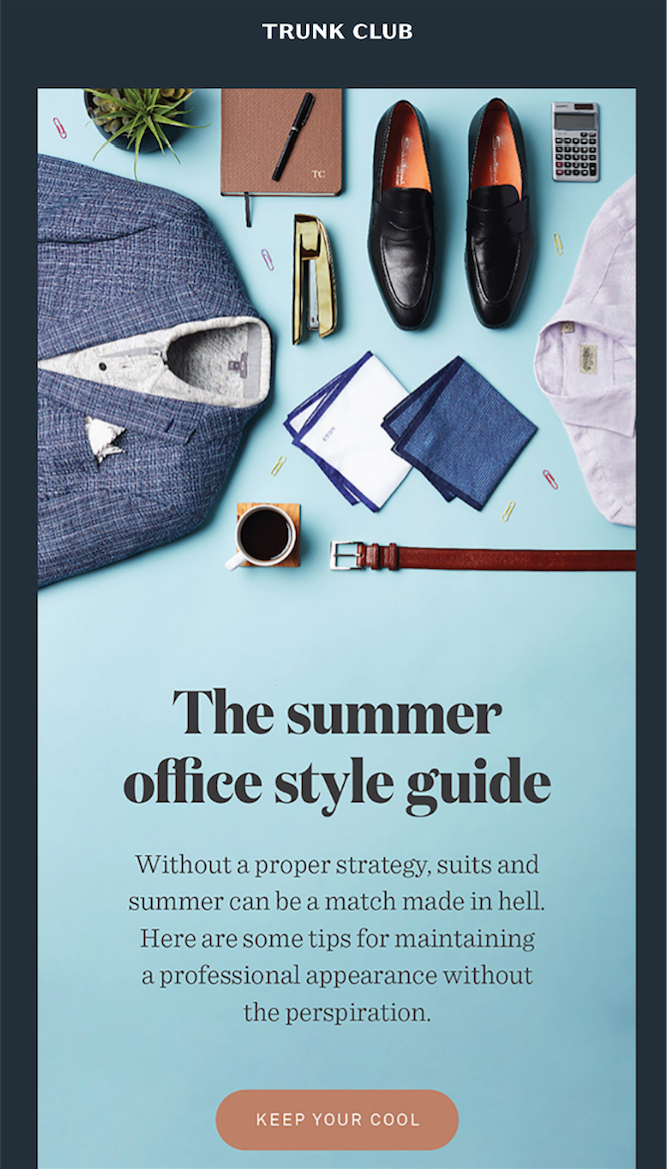 Dressing appropriate for work during summer can be a hassle. Something that Trunk Club clearly understands and tries to work around with their summer style guide. This email has it all. A great design with simple, but attracting visuals that is mobile-friendly. But especially some great copy with a sharp CTA. The only thing to look out for is the image-only design.

Everybody who has ever been on a plane knows how tricky it can be to find a comfortable travel outfit. Man Repeller offers a solution with this email that feels like a personal letter. It's a bit long but it reads easily thanks to the fun copy and just the right amount of images.
Summer usually makes it easier to create email campaigns since there's always plenty to do. We're talking about festivals, barbecues, specific holidays, sales, and so much more. This gives you a lot of different opportunities to send out event-based emails with product recommendations, helpful content or specific announcements. Perfect to fill up your content calendar.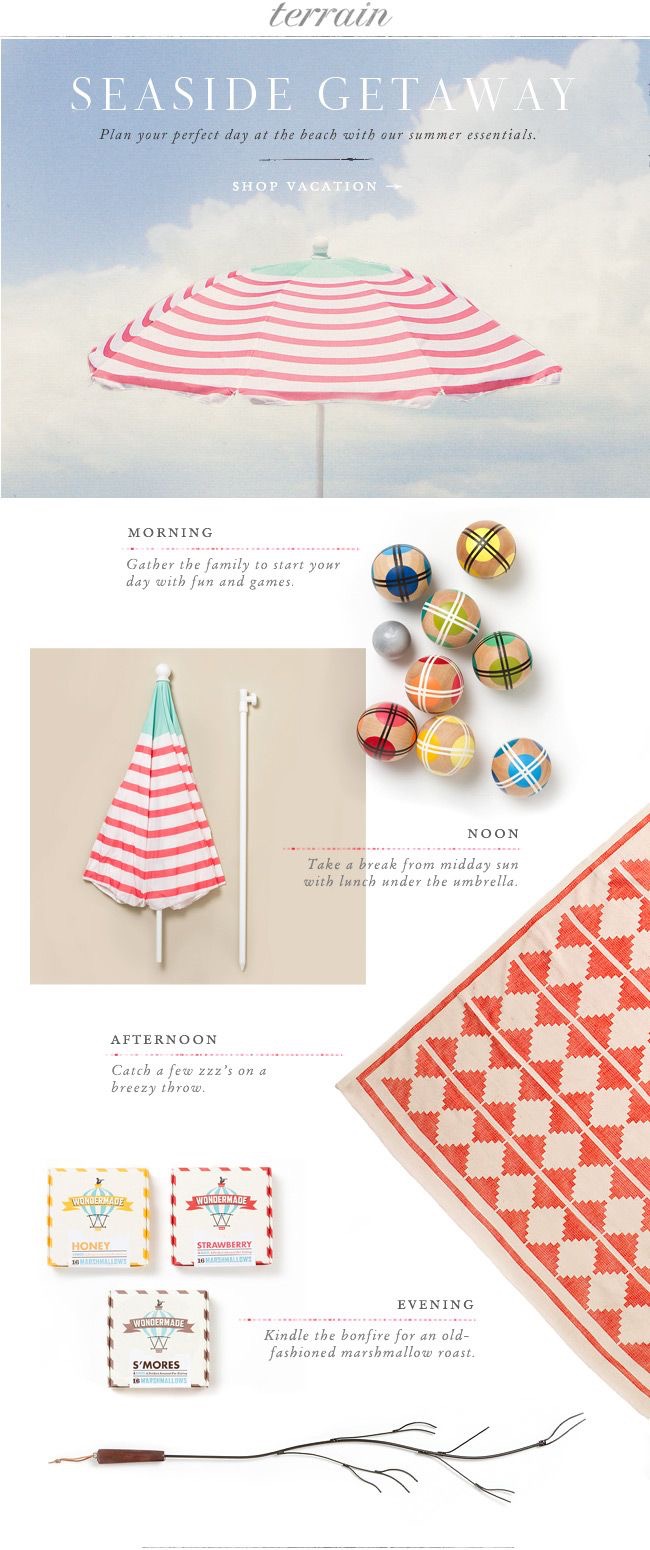 When you think about summer, you automatically think about beach days. This email by Terrain is a great way to make their readers excited about spending a day at the beach. It's short and sweet, with colorful images and inspiring copy. Not too much, but just enough. One tip: make your CTA stand out more to avoid it disappearing in the overall design.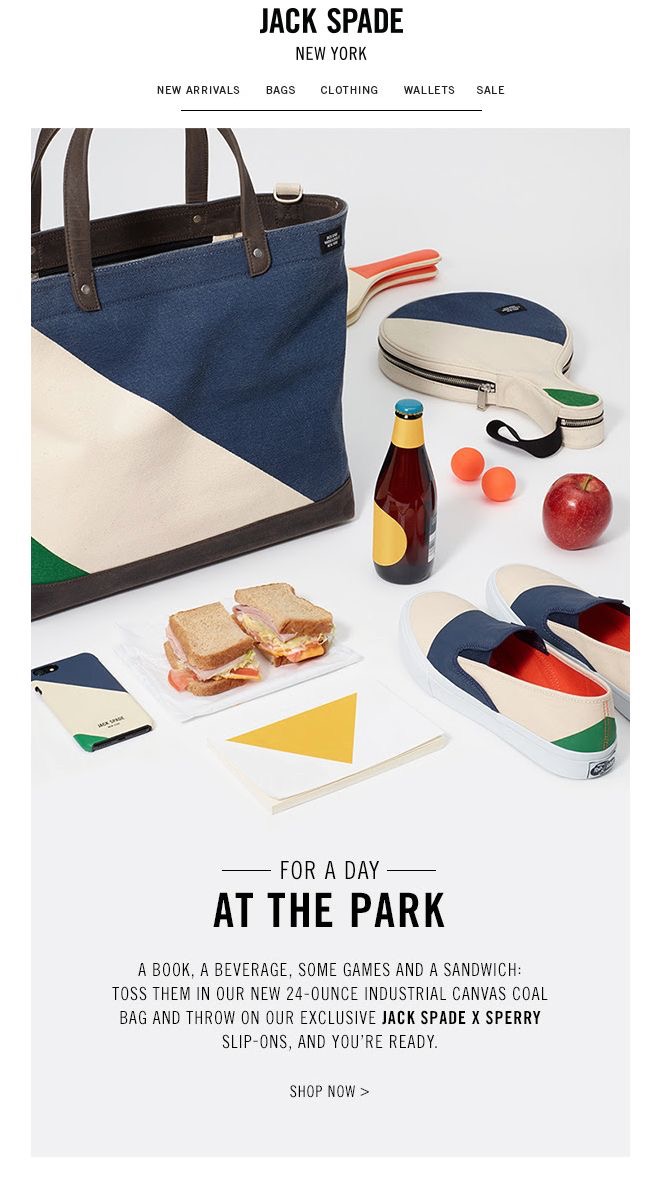 Another great activity on those warmer days is of course going on a picnic. Jack Spade understands it's even more fun when you have a pretty bag to pack all your stuff. We like how they paid attention to the colors of the bag and used this in the entire design. With some simple copy this email makes it easier for customers to convert. We would make the CTA more striking though. And again, making an email that's based on images is something to reconsider.
Summer equals sun, right? Sadly, that's not always the case. Some places still have to deal with cloudy, colder or even rainy days. So try to make your emails even more relevant by responding to changing weather. People won't like it when you're talking about having a nice barbecue dinner when it's pouring rain outside. Use real-time and local weather data to get ahead of this and provide relevant content. How about using the oven for your barbecue recipe?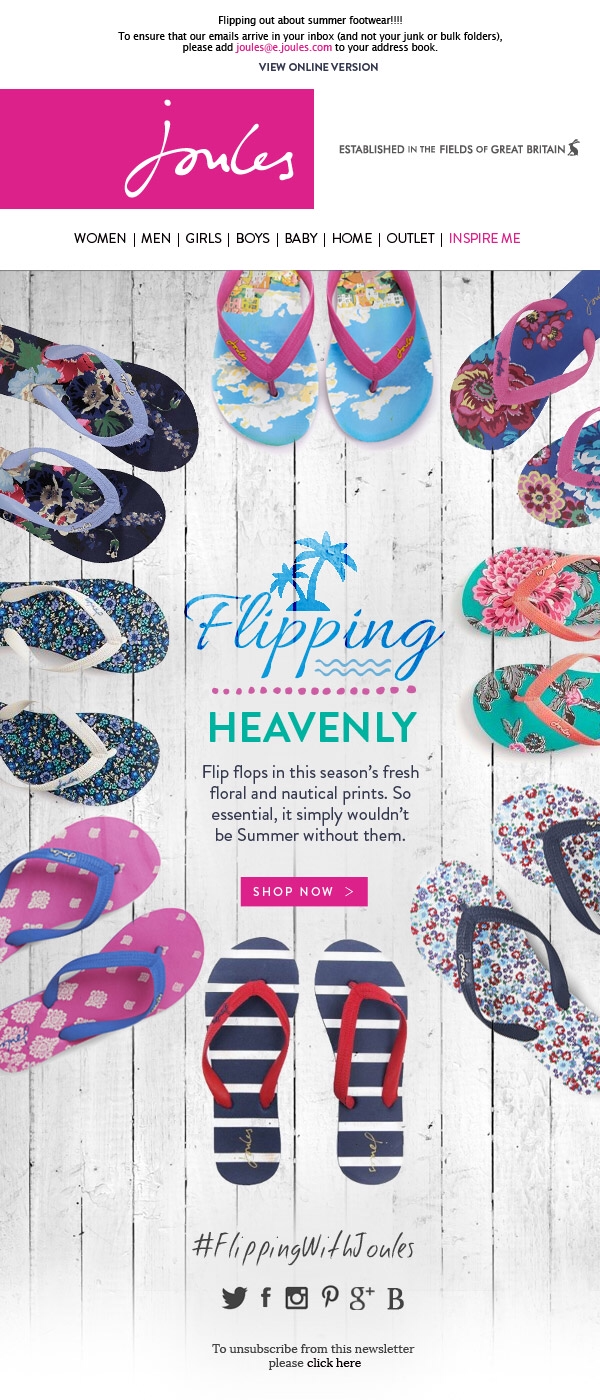 These emails are an impressive piece of work when it comes to email strategy. Weather can be pretty unpredictable sometimes, which is why preparing an email for two different scenarios is a smart way to go. We love the fun design in both emails, as well as the simple copy. Also great is how they include a personal hashtag in each email.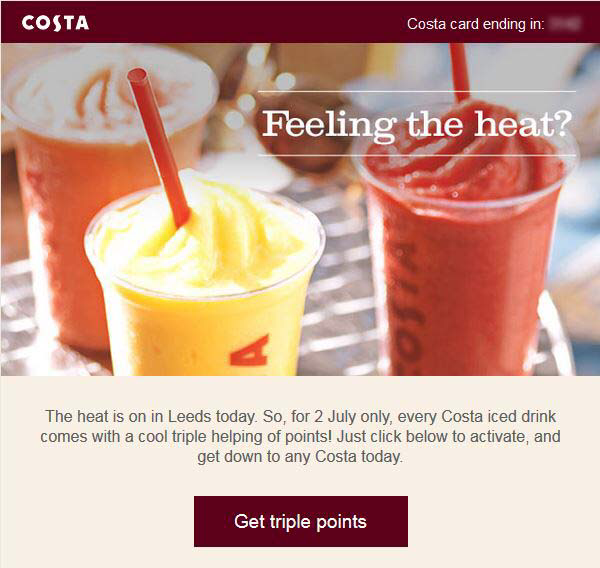 This is a great example of a locally personalized email. Coffee shop Costa makes good use of a hot summer day in Leeds with this one-day offer. More customers in their shop, plus customers get extra points on their member card. The email is simple and that's all it should be. Well done.
Trigger engagement with a contest or user-generated content
Summer equals happy days. So why not spread the love with giveaways, contests or offers. Trigger engagement with your readers by showing your appreciation and making them feel like you care about them. Keep your emails light and fun. After all, they're meant as a nice surprise!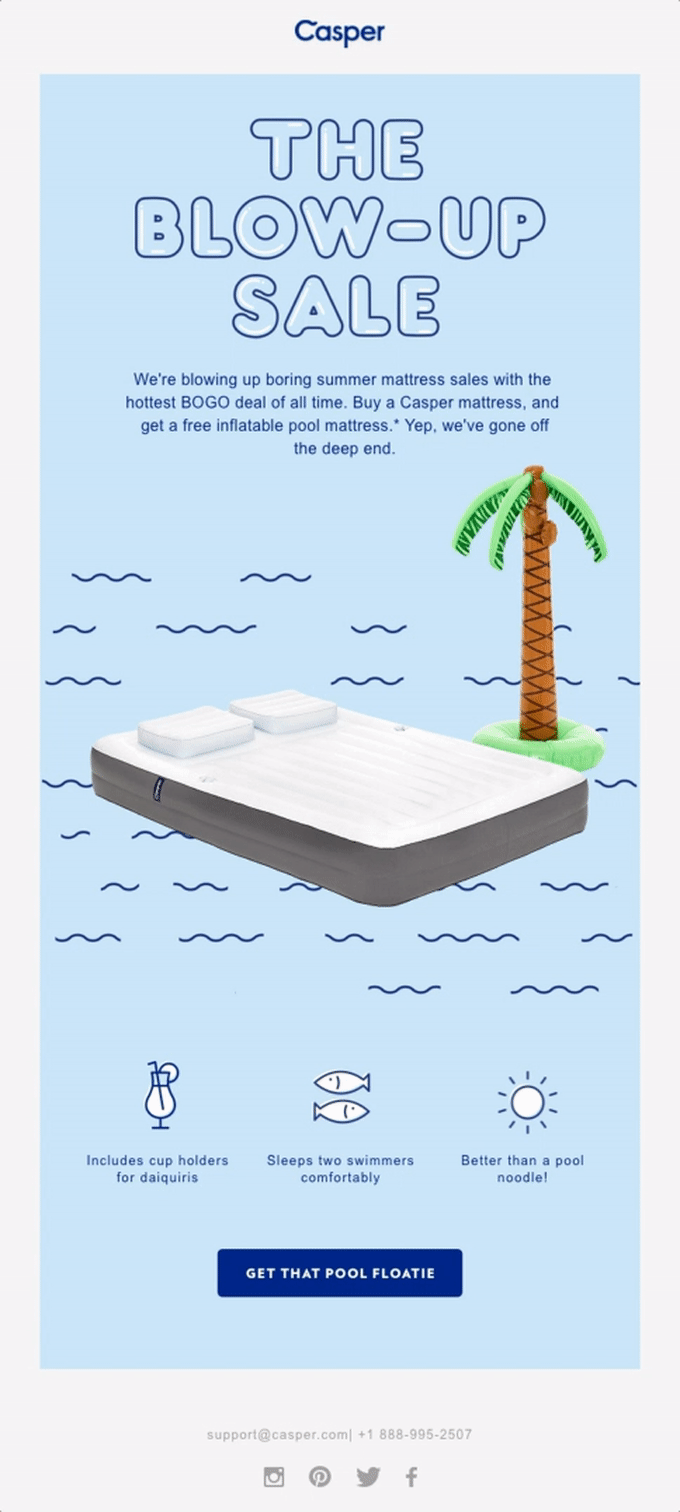 Casper goes big for the summer days. The BOGO (buy one, get one) approach is a wonderful way to surprise your customers. Which, in return, leads to more engagement and higher conversion rates. This fun-looking email is a great example of spot-on visuals and amusing copy.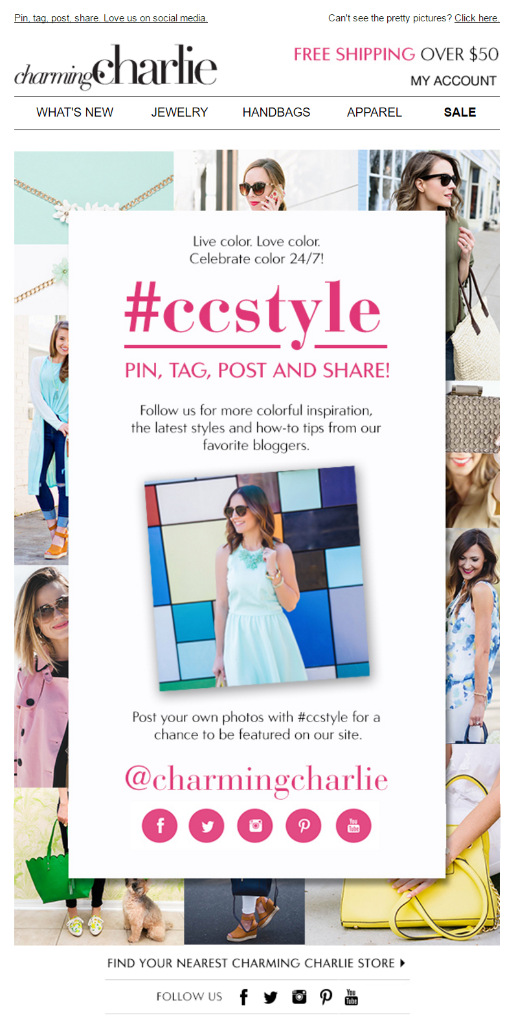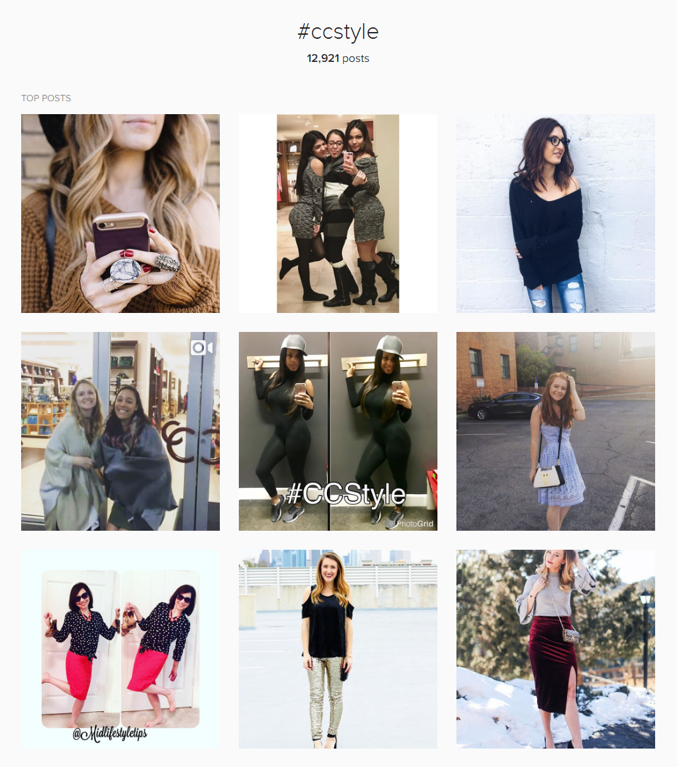 Instead of organizing a contest or giveaway, you can also offer your customers something in return for relevant content. This is what Charming Charlie does with regular engagement emails. The user-generated content is great to use in their own marketing channels. Whether their website, social media or emails. A good move since most customers prefer user-generated photos. Their incentive might be a bit weak, but it certainly works.
Hopefully you got all inspired and ready to tackle the summer days. Remember to keep your emails colorful and fun. And let's not forget mobile users! Make your emails stand out on mobile devices.
Need some help with your summer emails? Drop us a line!