The metrics of your email marketing provide a lot of useful information about the performance of your emails. Sadly, they don't tell you everything. When you notice a change in the results, you can't always tell why they changed! Luckily customer feedback can give you an explanation to all your questions!
In this blog post we'll explain why, how and when you should collect customer feedback. And of course, we'll dive into the specifics of how you can gather feedback with emails.
Why should you collect customer feedback?
When you sell any kind of product or provide a service to clients it is important to satisfy the needs of your customers. An important factor to satisfying those needs is to understand what they want.
So why not just ask them?
Getting feedback truly is a fantastic way to gain valuable insights. When you analyze customer feedback you'll get a clearer picture of your customers' behavior and their expectations. This will help you provide better services and develop better products. Ultimately, this can help you improve the overall customer experience.
"Ask your customers to be part of the solution, and don't view them as part of the problem."
But why emails?
As you know, emails are a perfect way to get in touch with your subscribers throughout the whole customer flow. From welcoming new subscribers to reminding them of their abandoned cart, you always have a reason to send out emails with relevant content for your (potential) customer.
Email is still the most commonly used digital customer service channel. 54% of customers have used email customer service channels in the last year.
But communication isn't a one-way street. As mentioned earlier, a lot of customers will leave your business because they feel unappreciated. You don't want your customers to feel that way, do you?
Email is a great channel to get a conversation started. When you're asking for feedback in your email campaigns, you give your customers the opportunity to share their thoughts and perceptions. You include them and appreciated them. And that's that they want.
How to collect customer feedback via email?
As with most things in your business, it is good to work out a strategy when collecting customer feedback. This will help you get a clear view of your goals and what to do once you achieved those.
First of all, you should set those goals and decide what you want feedback on. Do you want to get to know new subscribers a bit better? Or make it easier for your customer to check out?
Next, you have to plan your questions accordingly. We don't advice asking general questions. This usually results in getting tons of answers that are difficult to use. For example: "Are you happy with your purchase?" Your customer could answer with yes, but might still have had troubles with the checkout process. Rather ask: "What can we do to improve our checkout process?". The more specific, the better.
The customer feedback email: things to consider and examples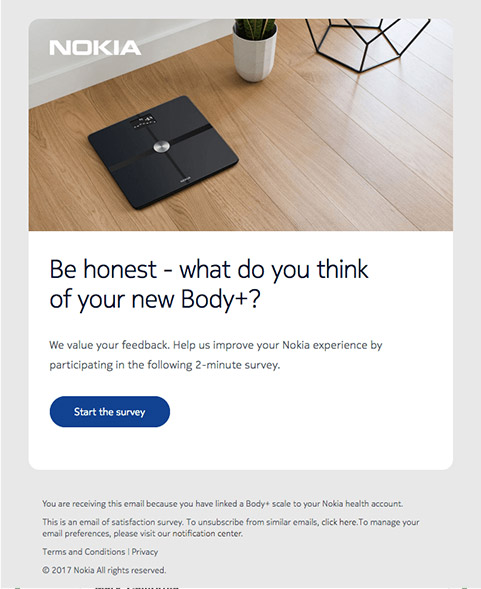 There are usually two approaches when you're asking for feedback in your emails. One is by trying to start a conversation with your readers. You can do this by sending out your email – including your question – and asking to share their thoughts in a reply email.
Another way is by inviting your reader to a survey. This is a great way to gather lots of insights at once.
But no matter the type of email you choose to send out, there are always a few takeaways to consider when creating your feedback email.
Address the right audience
Make sure you ask your questions to the right people. You can do this by segmenting your audience. When you want to improve your checkout process for example, you shouldn't ask those types of questions to people who haven't bought anything yet.
Time is of the essence. People are usually busy with their own stuff. Often when you have too many or too detailed questions, you'll receive less answers. Try to stick to one key question at a time! If it takes more than 5 minutes, chances are they won't reply so easily.
Stick to a clean and straightforward design. It should be clear what you expect from your readers so make sure they can quickly scan the text and take action.
Think about your strategy. Only ask questions that meet your goals and try to ask open-ended questions. That way you'll receive more detailed answers which will help you when analyzing those answers.
If you can afford giving an incentive, you should. People usually don't like doing something without getting something in return, and it can help you get a higher response rate.
Some examples of awesome feedback emails
Let's have a look at which best practises Flywheel has included in their feedback email. 

We love how they come in with a big image that fits the overall message "We love our customers and value their feedback" (1).
The big and bold title is clear and straight forward + it states that you can get a free t-shirt if you participate (2).
Their body copy (3) tells their readers:
why they need their feedback and what they will do with it.
==> radically improve their content
how long the survey will take.
==> 5-10 minutes
what they need to do to win a free t-shirt.
==> complete the survey
To finish the email, Flywheel thanks their readers in advance for taking the time to leave their feedback.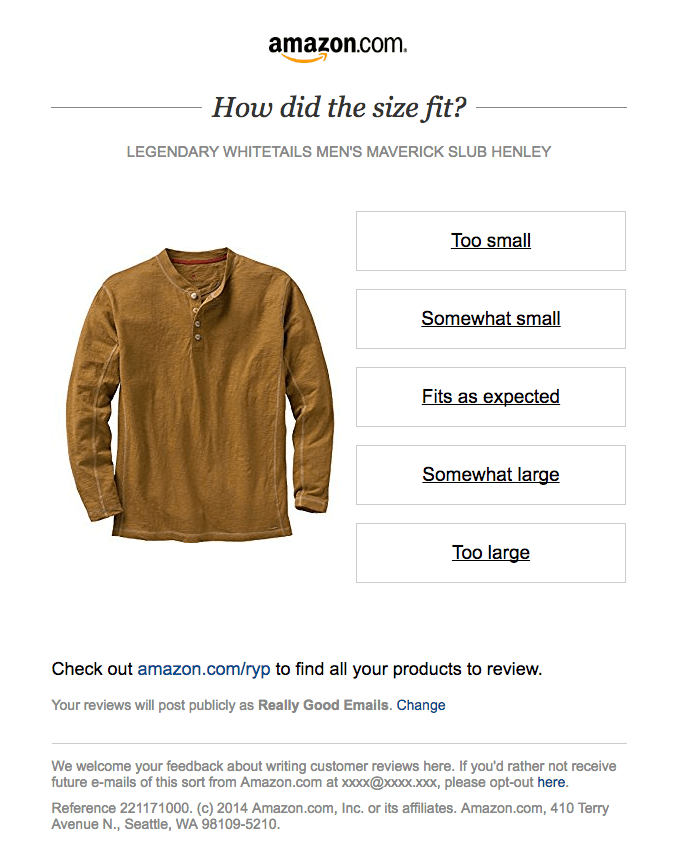 This email from Amazon is a very short and simple version of a feedback email. 
Once you've bought some clothing or shoes, they will send an email asking one question: How did the size fit?
Clothing sizes can vary a lot depending on the brand so Amazon wants to use the experience of buyers to generate trustworthy information about the size.
This feedback is then used to show a mention on their website. For example 'Attention: this tshirt is somewhat smaller that average'.
Now that's a smart way to use customer feedback! 
When do you send customer feedback emails?
Depending on your business and the goals you have set for yourself, you could send various emails to collect feedback. But we'd like to give you a headstart with a few examples. There are a few standard moments that you can implement in your customer feedback email strategy.
When you add new contacts
This is a good way to get to know your potential customers better. They don't have to make a purchase first. But this can help you learn more about their interests and expectations, so you can send them more valuable and relevant information. Essentially, that's the reason they signed up to your email list.
Customer experience becomes more and more important when buying products or service. You can always ask about the purchase itself or the buying process in general. This will give you lots of insights about the strong and weak points of your products and customer experience. But also how you could change this for the better in the future.
When you try something new
Have you launched a new product? Or tried something new on your website? Ask what people think about it. This is another option to understand what your visitors expect. When you take their suggestions into account, you can also minimize the risk of making something they don't want or need.
When you see a decrease in opens and links
At the beginning of this article, we already explained that metrics can provide very useful information. But they don't give an explanation about your results. So everytime you notice a negative change in your metrics, it's a good thing to find out why.
This can be a delivery, but also after visiting the movies or having any kind contact with your business. As we stated before, it's all about customer experience! So it's important to know how your (potential) customer perceived their contact with your business.
Only send customer feedback emails when you know you can act on the results. If people see you listened to them and improved something, they will feel more like you truly care. This can boost future response rates and build trust with your readers.
The customer feedback loop
Keep in mind that asking for feedback is an ongoing process. It helps improving your business and the contact you have with your customers.
Try to collect information that is relevant enough to meet your goals as well as your customers' expectations. Not only can you use these insights to improve your business, your products or your content. It also helps you to take care of any possible issues.
The most critical part of this process is to inform your customers about your changes. We'll say it one last time. You have to show your customers you care about their opinions. And by implementing their suggestions and keeping them up to date, you truly show you do your very best to satisfy their needs.
This email by Revolution tea is a great example of a post-feedback email.
Like we mentioned above, keeping your subscribers in the loop about what you have achieved with their feedback and what the results were, is a great way to keep them included and appreciate their effort.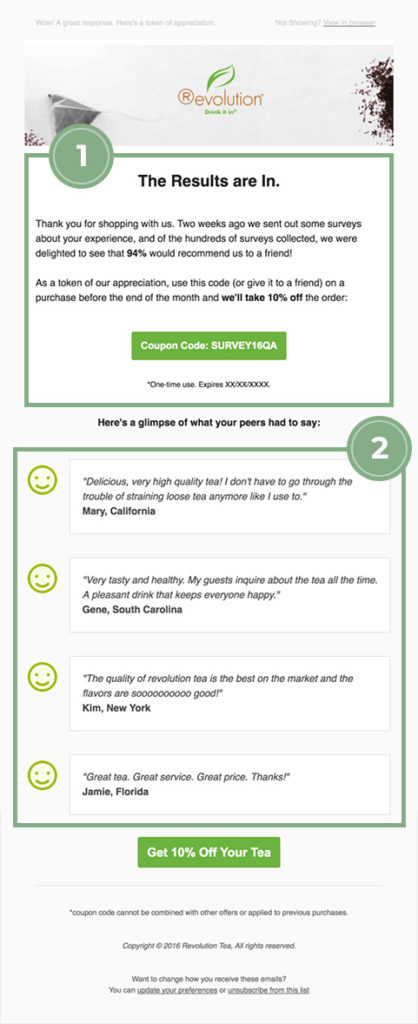 First, they thank their readers for all the feedback they have submitted. They are so happy with the great response that they decided to include a discount code (1).
Further down the email, they feature some of the feedback they received (2). Notice how they use snippets of feedback as customer testimonials?
This email isn't purely made to thank their readers but also to generate extra sales. Double win. 
All the examples in this post come from our main source of inspiration: Really Good Emails <3
At Saluton, we also want to learn what your struggles and interests are. This way we can tailor our blog content to suit your needs.

So don't hesitate to let us know what you think of this article! Just leave a comment below. Your feedback is greatly appreciated!