How to use an online quiz to attract, convert and profile your audience.
Is an online quiz something for your business? Let's find out!
The best ecommerce marketers are constantly looking for ways to attract their audience and delight them with personal recommendations and helpful advice. They understand that a personalized approach is much more effective in generating sales than generic 'same-for-all' communication.
One of the most underrated content types to attract, engage, convert and profile your audience are online quizzes. They are fun, engaging and impressively effective. Did you know that interactive content converts 2x more than passive content?
In this article we explain why you should consider adding an online quiz to your marketing, how you can create a solid quiz yourself and, in addition, we highlight 5 brands that absolutely nail it.
Why you should consider adding an online quiz to your marketing
First of all, it's important to note that an online quiz is not a survey or a study.
An online quiz offers interaction and instant feedback while a survey or study asks for user data, usually without offering anything in return. Therefore, users will be much more willing to fill out a fun and engaging quiz that offers instant value.
Let's have a look at why a quiz is a great addition to your marketing toolkit.
Online quizzes are attractive and engaging
When you scroll down Facebook, you probably notice that a lot of people eagerly share results like 'I should live in Barcelona. What city should you actually live in?' or 'I am Ron Weasley. Which Harry Potter character are you?'
Why is that? Why are they so appealing? Why do people share these results?
First of all, quizzes are fun. And who doesn't like fun?
Then, there is the instant gratification factor. With minimal effort, these quizzes generate an outcome for us. It's easy. And people like easy.
Quizzes are also a quick way of getting information without having to deal with reading or analyzing longform content. It's snackable and fast.
And finally, people love to learn things about themselves. They give us a little bit more insight in 'who we are' and 'where we belong'. Especially if we can then compare our result to our peers.
Driven by curiosity and ego, quizzes and quiz results get shared. A lot. According to BuzzSumo, on average, a quiz gets shared a whopping 1900 times.
From a marketing perspective, this is very interesting because you can easily attract and engage your target audience.
Online quizzes convert like crazy
Did you know that – if your questions are short and engaging enough – 96% of people will finish a quiz? That's an insanely high conversion number.
The main reason why these quizzes convert so well is because they give people personalized results based on their answers. And people are curious so once they started the quiz, they want to know the result!
Online quizzes are a valuable information source to profile users
Ask the right profiling questions and you'll get tons of valuable customer insights from your target audience. Whether you send it to existing customers to get additional information or use it as a lead generation tool to reel in new prospects, this information can help you to create better segments.
Let's say you sell eyewear. A lot of people aren't sure which frame is best for their face. With a quiz, you can ask some questions about the shape of their face, their preferences and then provide them with relevant and helpful recommendations. You can point them to a specific eyewear category, increasing the chances for them to buy your product.
And if they don't buy straight away, you still have the right customer information to provide relevant recommendations or deals via email, on your website or in online ads.
Our tips for creating an effective quiz
Think about what you want to achieve with your quiz
That's right. Even for a simple online quiz you need to set goals.
Do you want to raise brand awareness?
Are you looking to position yourself as an industry leader?
Maybe you're trying to increase product sales?
Or you want to grow your email list?
Once you have a clear view about what you want to achieve with a quiz, you'll be able to find a suitable approach.
Research your target audience
Depending on the target audience you want to reach, you need to think carefully about the specific topic.
What is your audience interested in? What kind of questions and struggles do they have? Which content will resonate with your audience?
It's a good idea to search for quizzes within your industry that have performed really well in the past or hang out in online forums to learn more about your audience's challenges, preferences and interests.
Remember that your audience will be looking for instant value. What's in it for them? How will they benefit from taking your quiz?
Asking smart profiling questions will give you the chance to get a lot of valuable information about your target audiences' preferences, personality, interests, challenges, goals, etc…
Of course, these questions need to be related to your quiz topic. If you want to sell more interior design products, you don't want to be asking your audience about their favorite yoga pose. This wouldn't make any sense. Instead, you could show them 4 different interiors and ask about their favorite style. Or show them 6 different color palettes and ask them to indicate their 2 favorite ones.
Keep your questions short, simple and don't ask too much. A quiz should be fun without taking too much time. 6 to 10 questions is usually the way to go. This would take about 2-3 minutes of your users' time.
Write an attractive title
Everything starts with an attractive headline. On average, 8 out of 10 people will read headline copy, but only 2 out of 10 will read the rest.
A clickable title appeals to people's curiosity and egos.
Have a look at these high-performing title formulas:
"How much do you actually/really know about Facebook ads?"
Adding the word 'Actually' or 'Really' transforms a simple question into a challenge.
"What your choice of coffee tells you about your personality"
People always like to learn something about themselves.
"6 questions to find your next travel destination"
I can learn where to travel to with just 6 questions? Yes please!
Use fun, relatable and positive copywriting
A quiz should be fun. So choose your words wisely. Don't sound too corporate or too stiff. Use your natural voice as if their best friend is asking them questions.
Make your results shareworthy
No one wants to share a quiz result that doesn't make them feel good about themselves. That's why you need to keep your quiz results positive and honest.
Add an eye-catching visual , a fun description and a call to action to encourage users to share their result on social media.
Ask for contact information
If your goal is to grow an email list, then – at some point – you'll have to ask your users to submit their contact information. This can be after you've shown them the quiz results, or right before showing them the results.
The key rule is to only ask for information that you're actually going to use. Keeping it short and simple will lower the barrier.
A great way to encourage people to leave their contact details is by giving them a really good reason. This could be giving access to a free guide, a limited offer or participation in a free giveaway.
We're not a big fan of quizzes that require an email signup before you get access to the results. Yes, there will be more subscribers on your list but they will only be there because they have to. We believe that freely given consent is much more worth than an extra subscriber. Quality over quantity. So give your users the option to see their quiz results without having to sign up to your email list.
5 brands that use an online quiz the right way
Birchbox - The right product for your skin type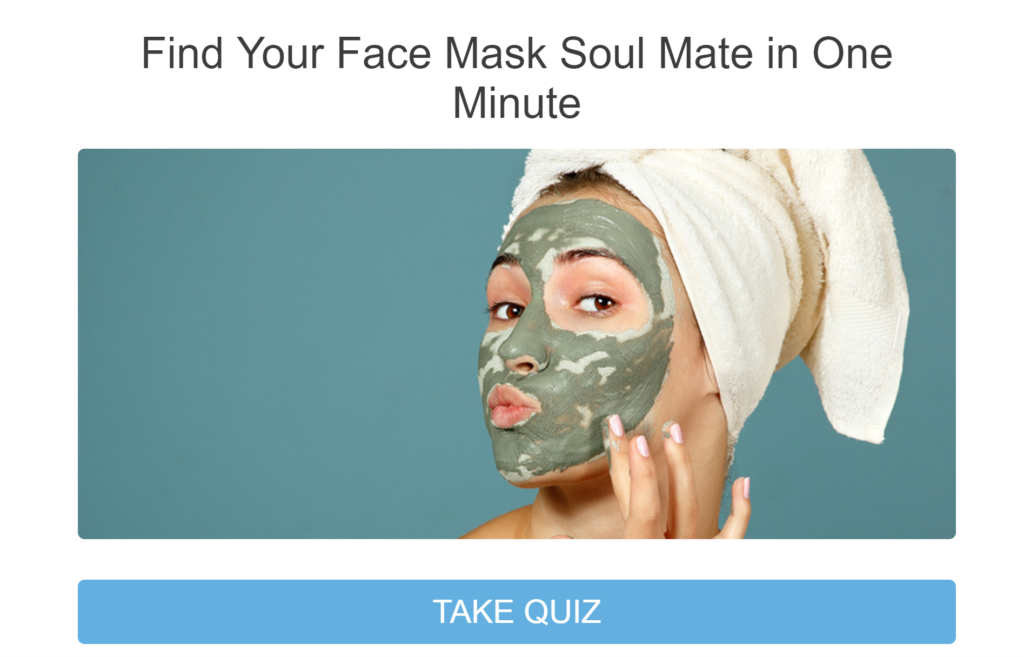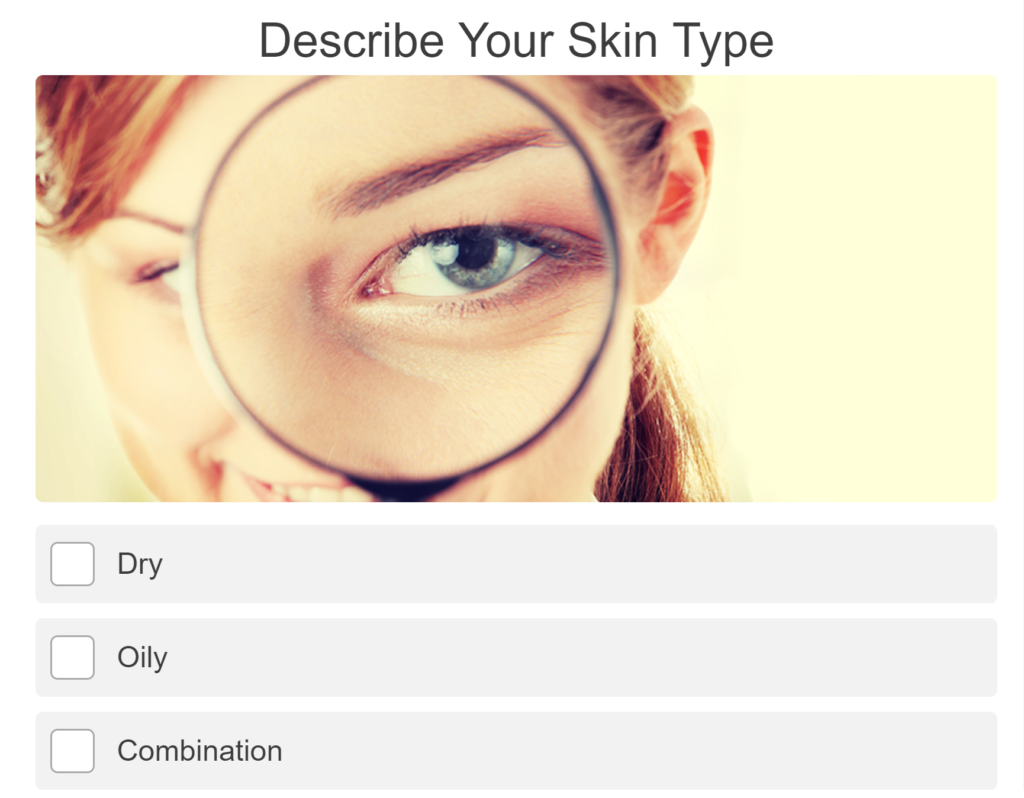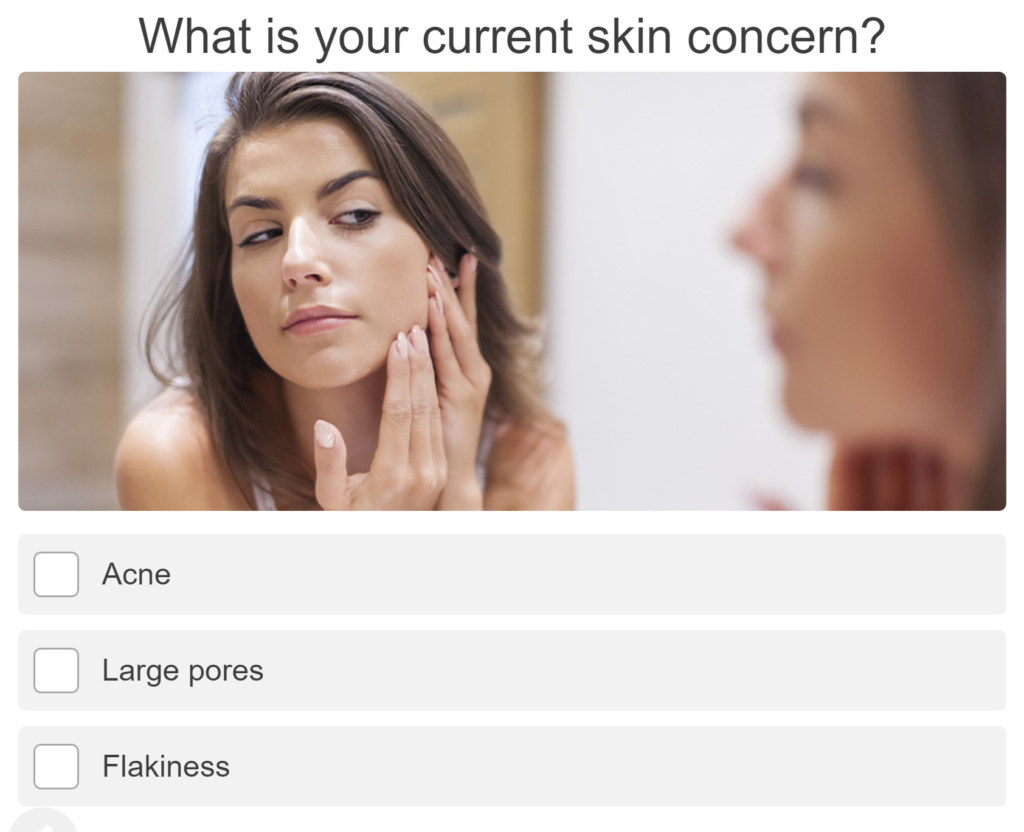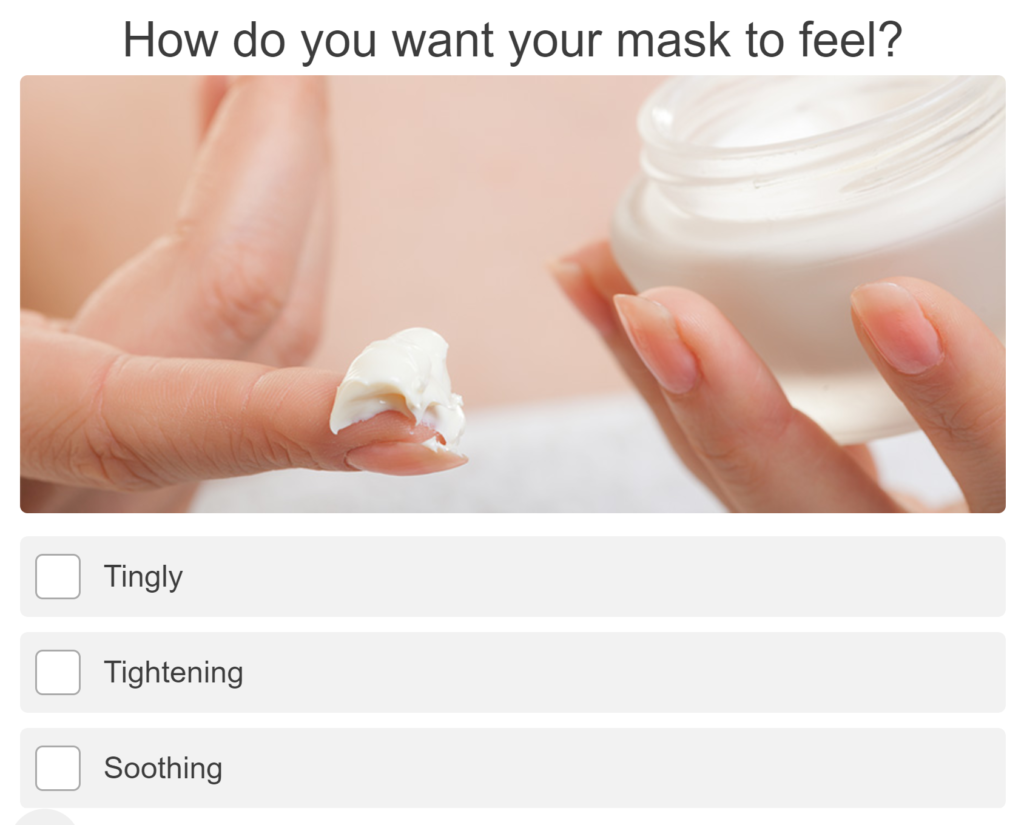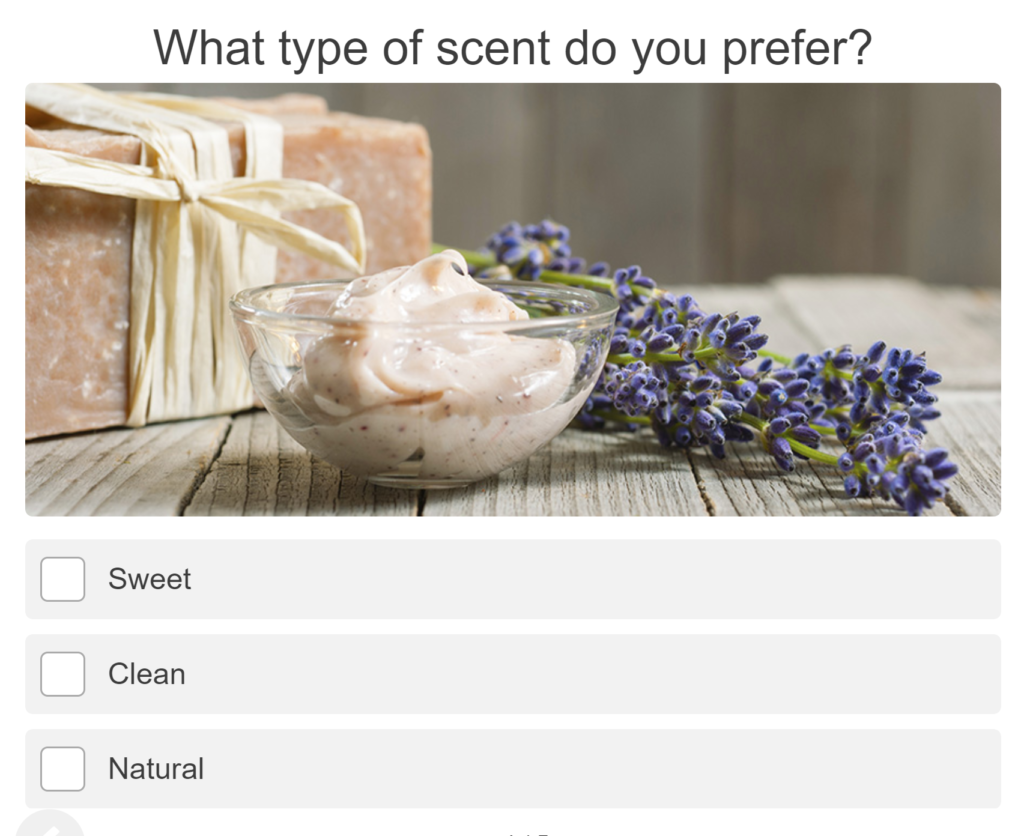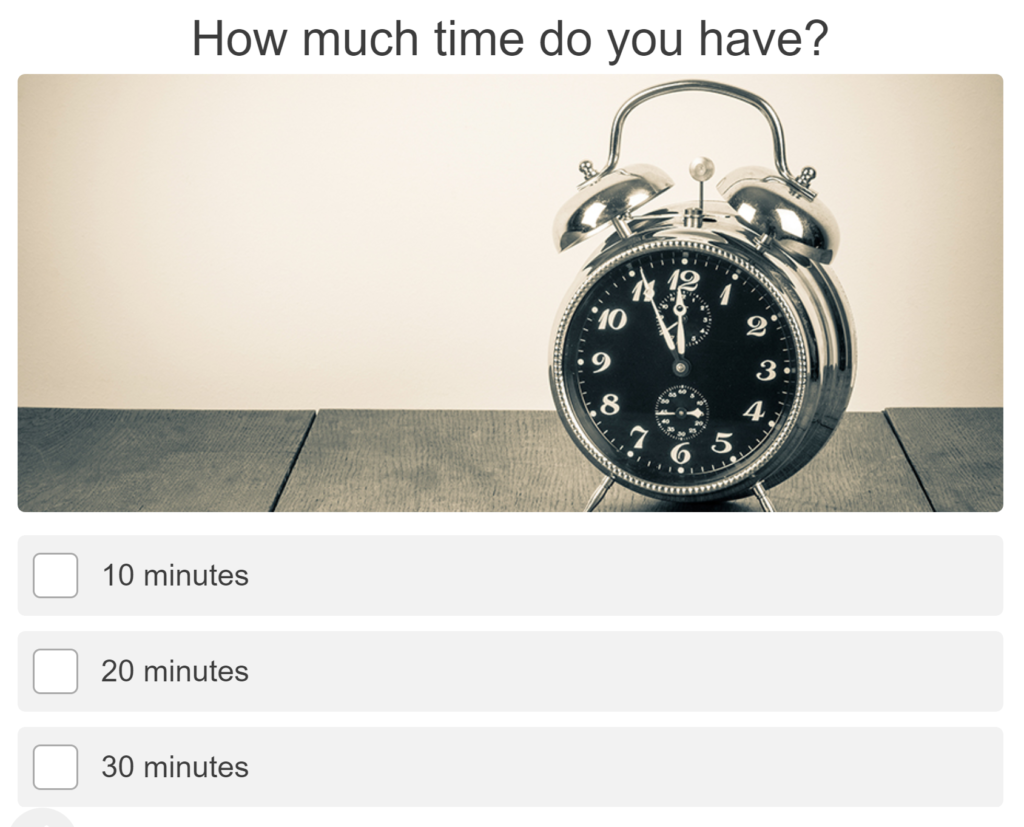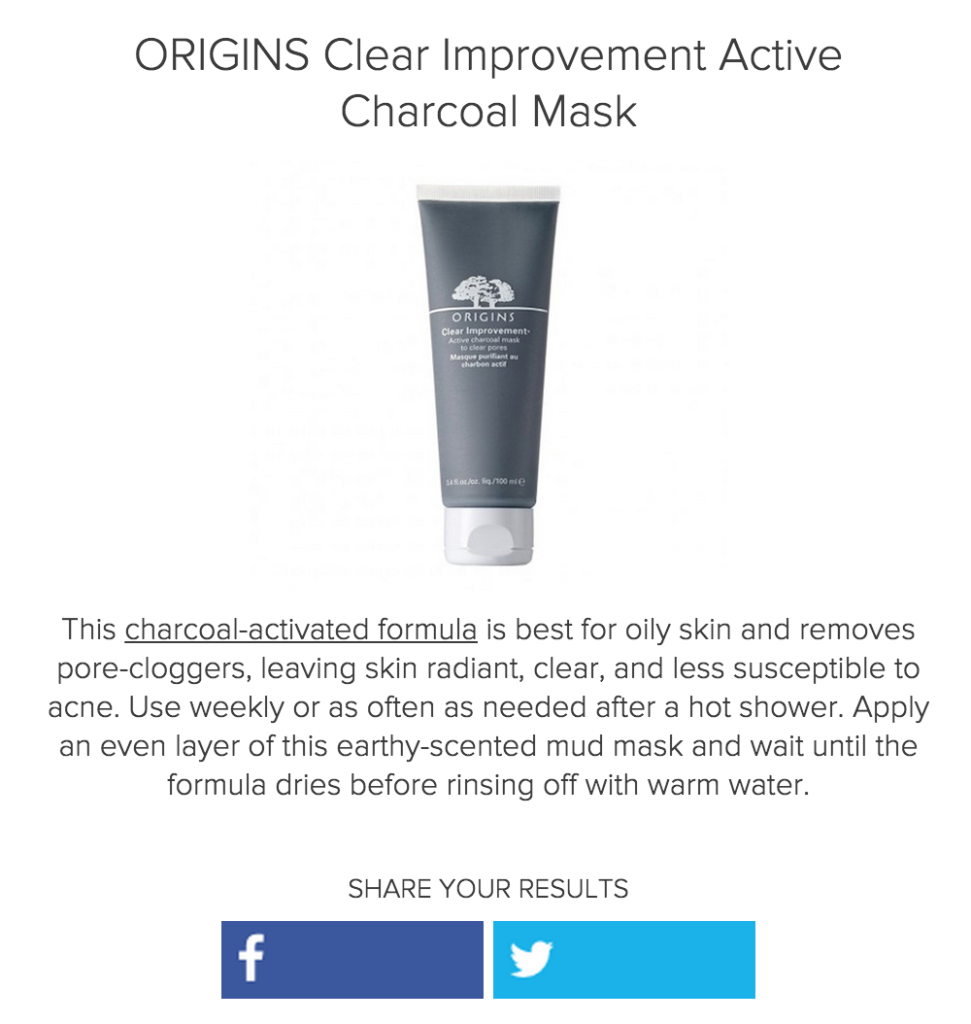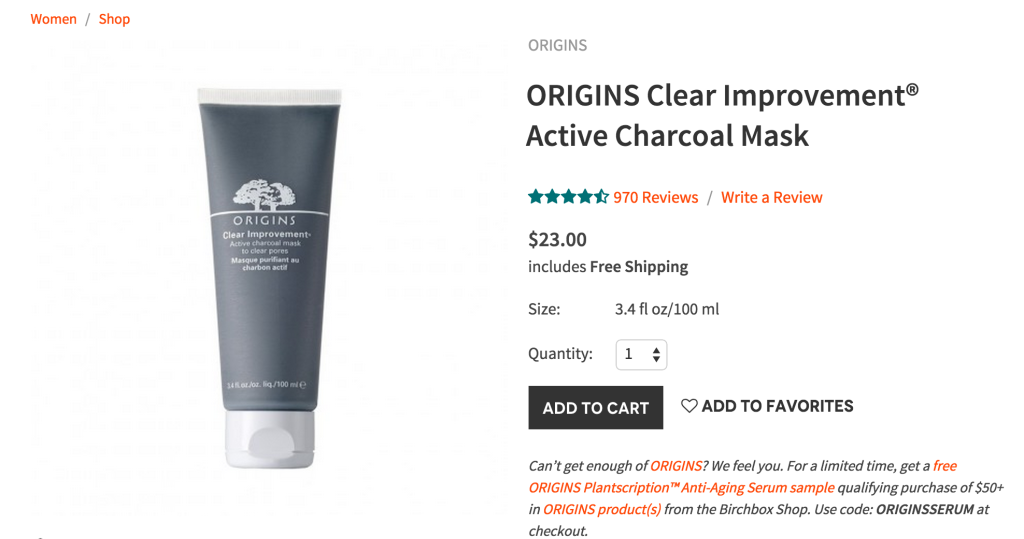 If you're going to buy a skin care product, obviously you want to know what skin type you have. Hence, this online quiz. With only 5 easy questions, Birchbox is able to provide a relevant and personal product recommendation.
The quiz focuses on selling products instead of generating leads. Every result links to a specific, recommended product. Very smart because this can increase conversions by up to 42%. Needless to say, the quiz worked perfectly for this popular beauty business since it generated $7,260 in sales.
Trade Coffee - What's your coffee type?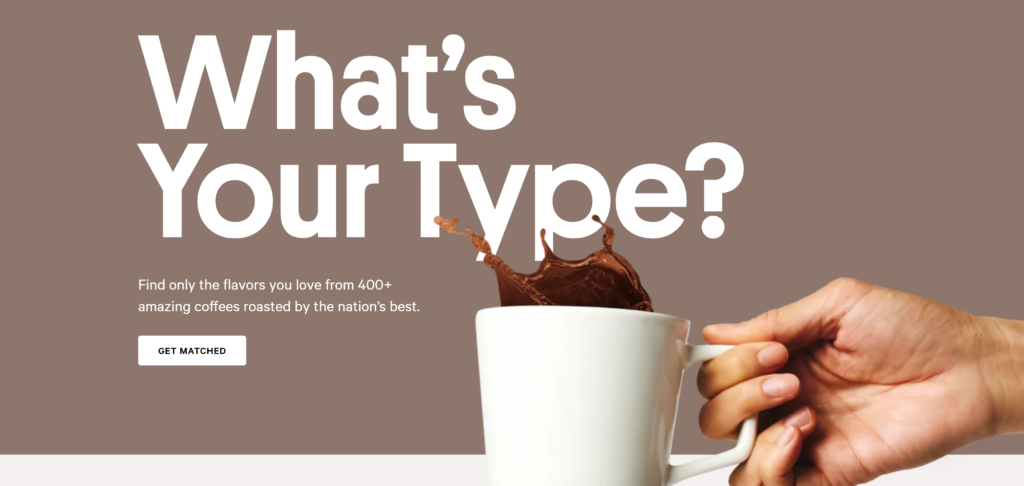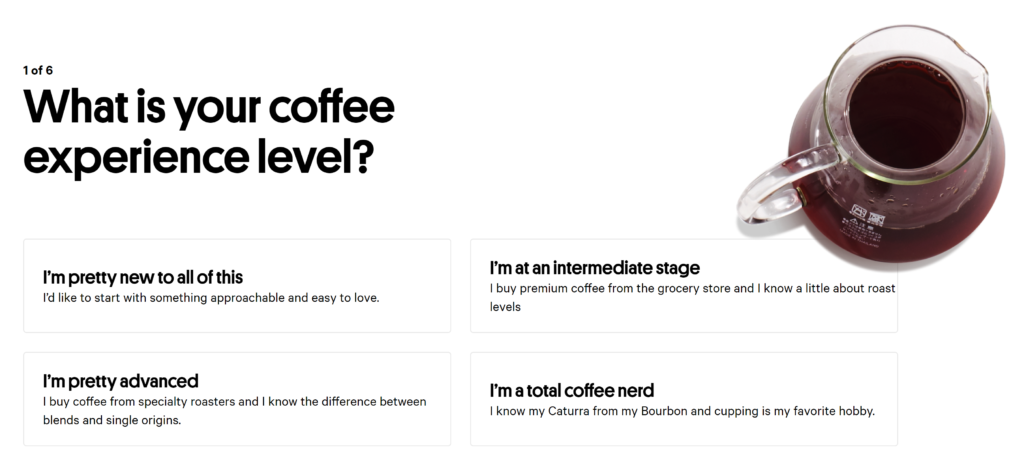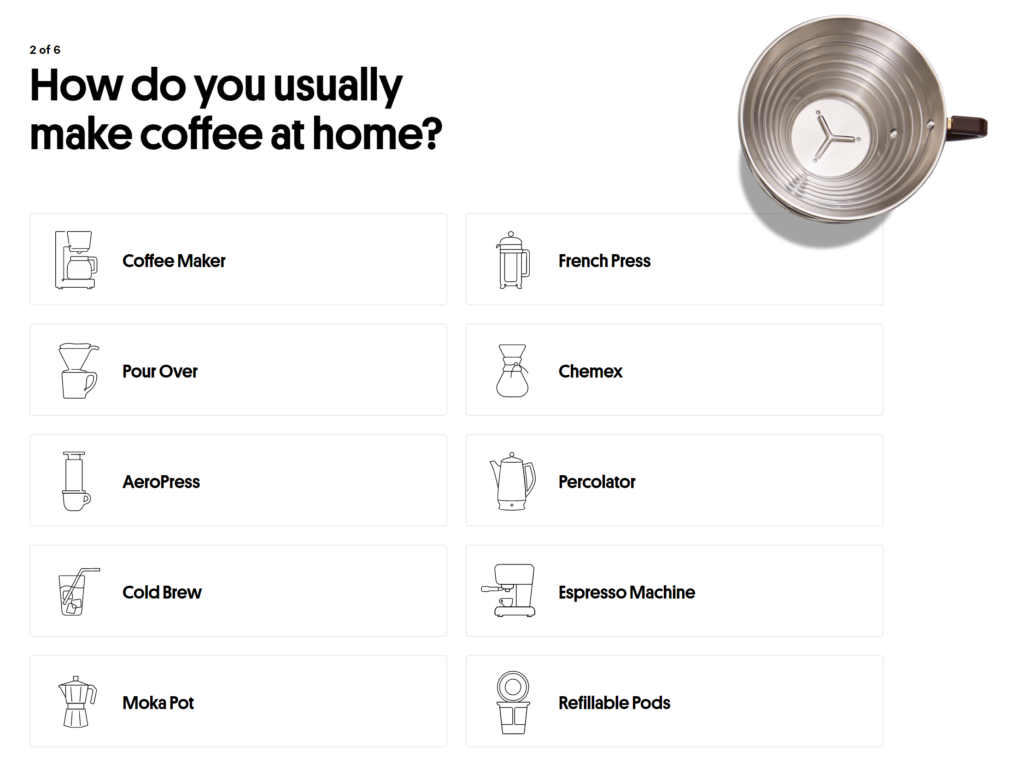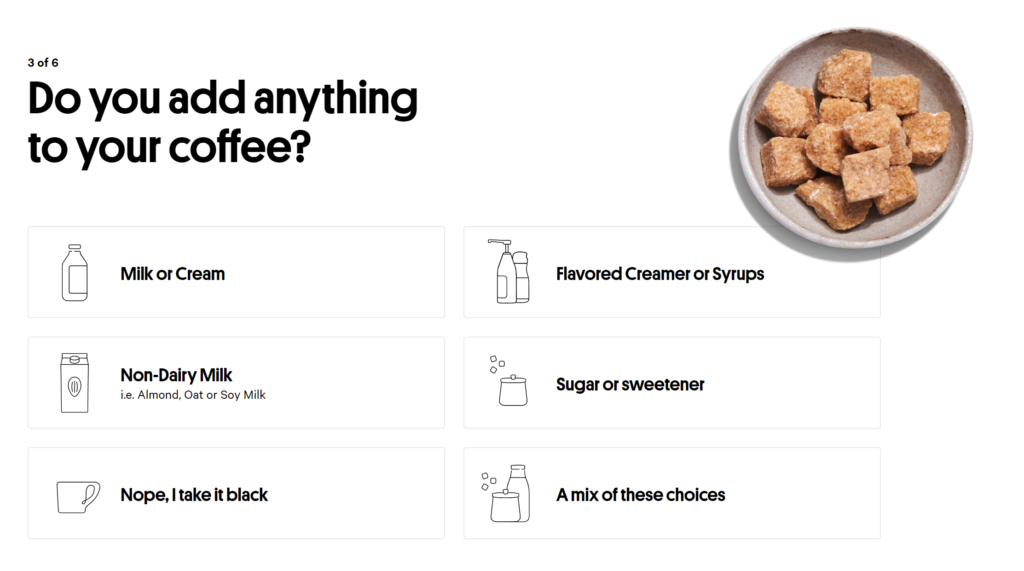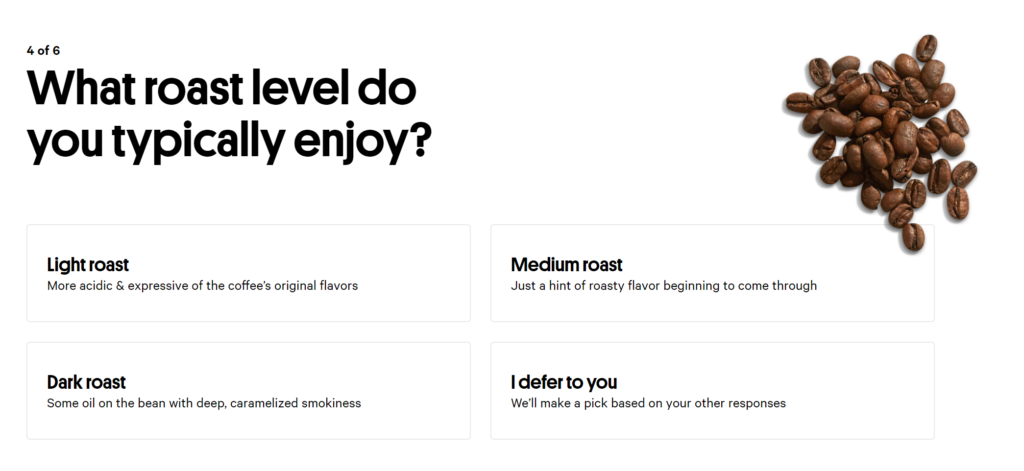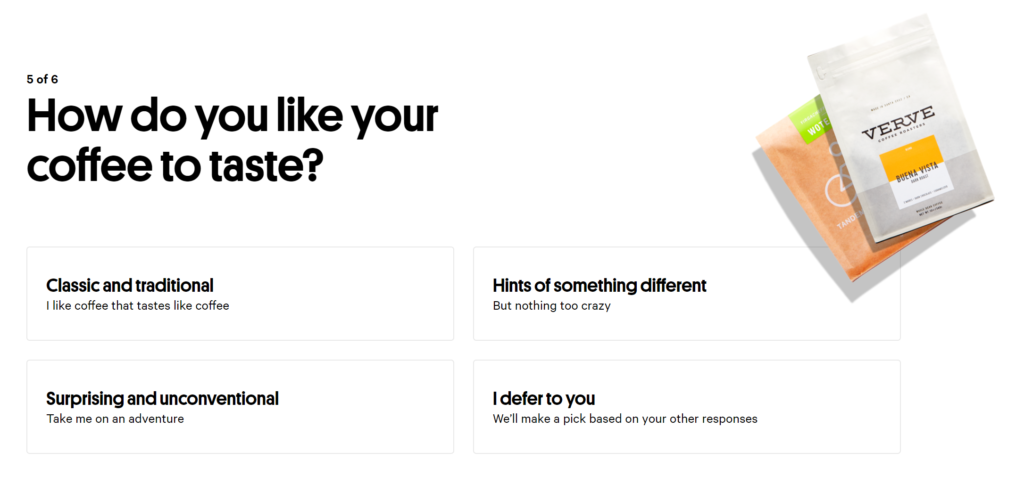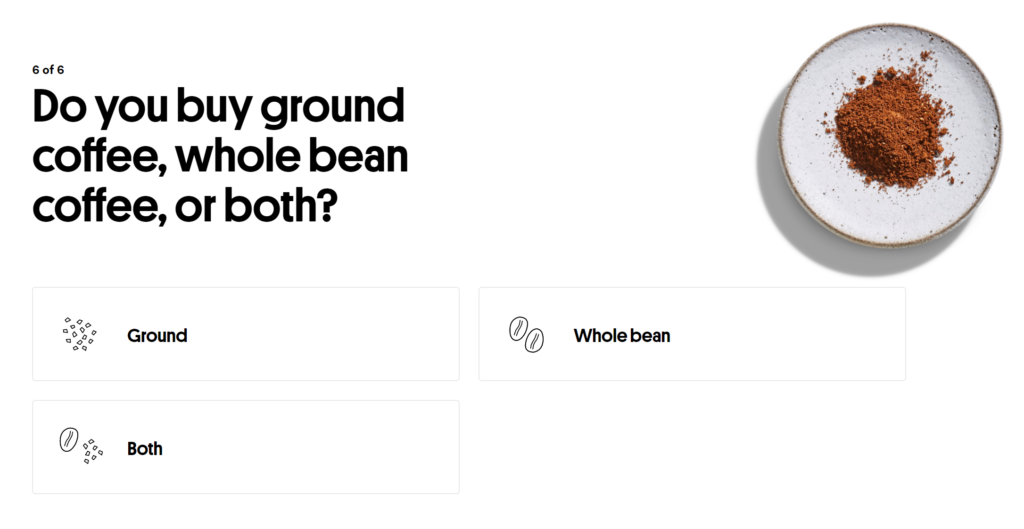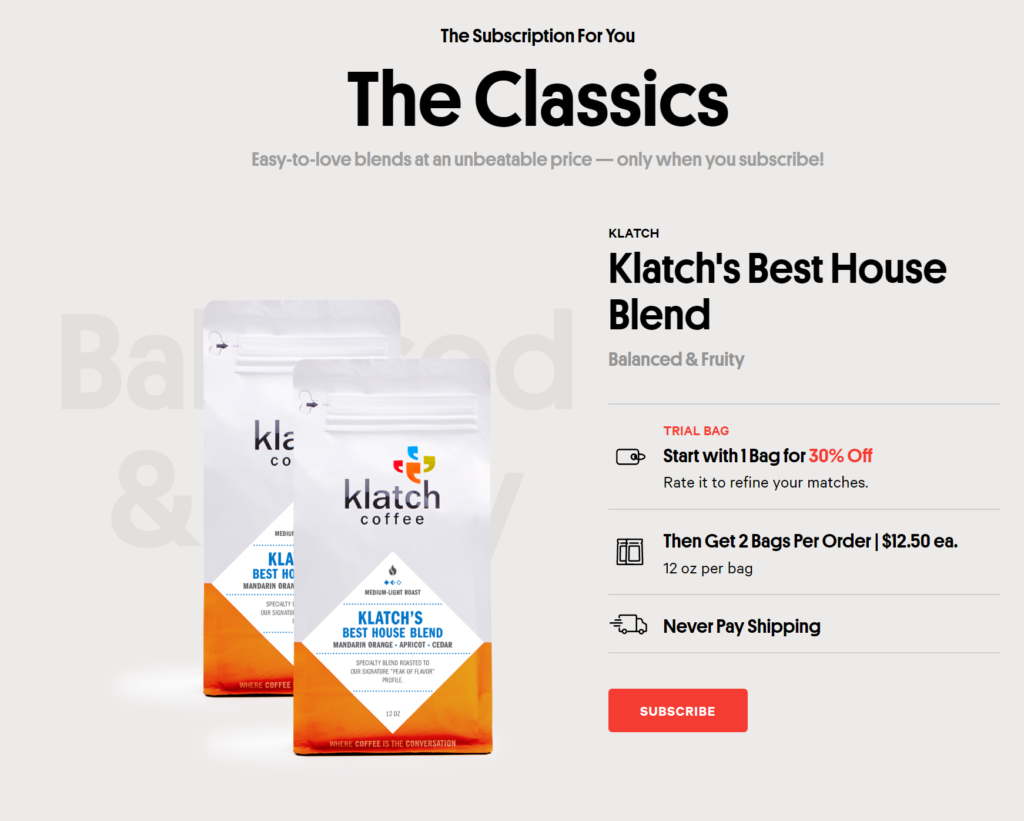 Black or with milk? Roasted or mild? Slow drip or espresso? There are so many different ways to drink a cup of coffee. Trade Coffee knows that. That's why they want to learn how you like your coffee.
With 6 easy questions they get to know your coffee style and give you a specific coffee recommendation. Now that's a great experience.
Their goal isn't to grow their email list but to inspire people to sign up to their curated coffee selection service. To lower the barrier for signing up, they offer a trial bag of coffee with 30% off.
Airbnb - Find out your travel personality and get matched with a destination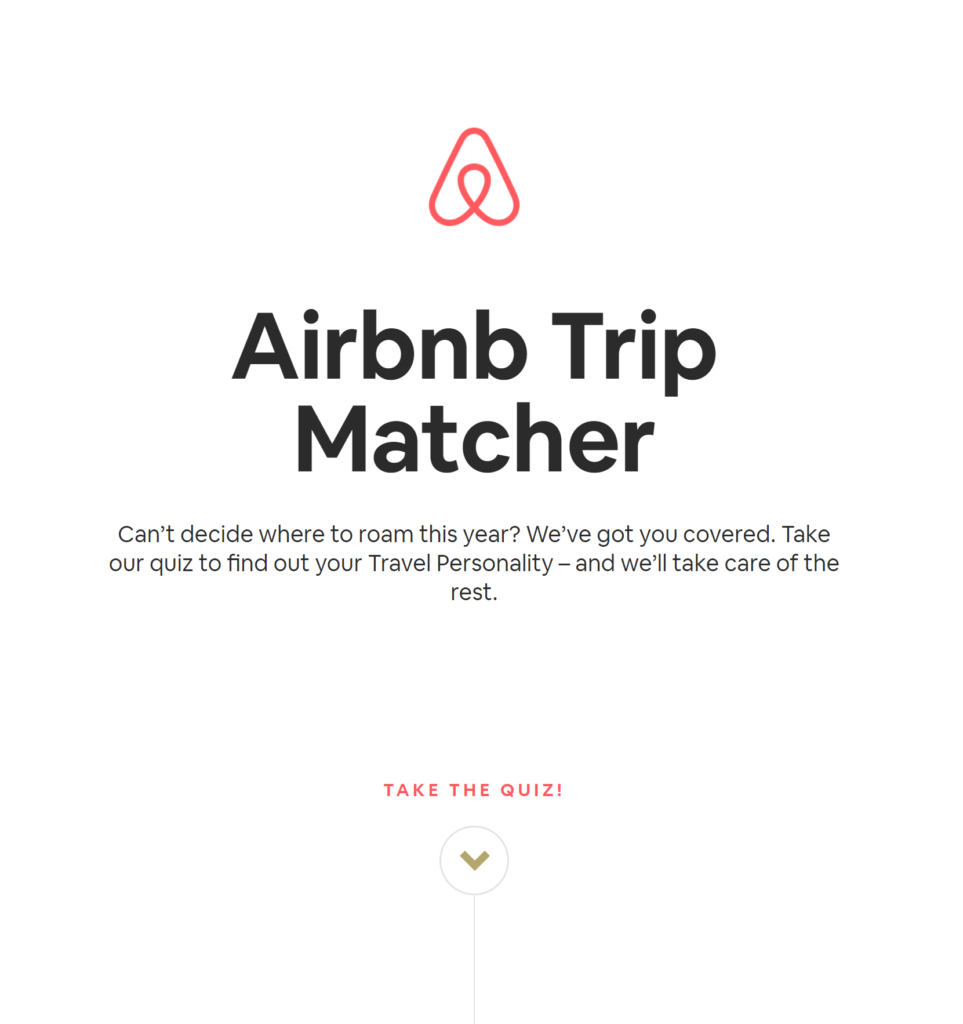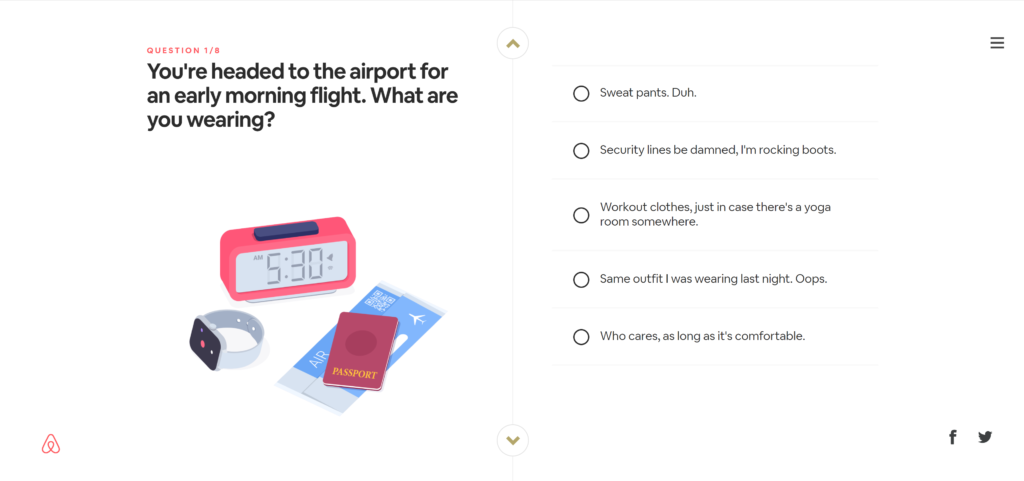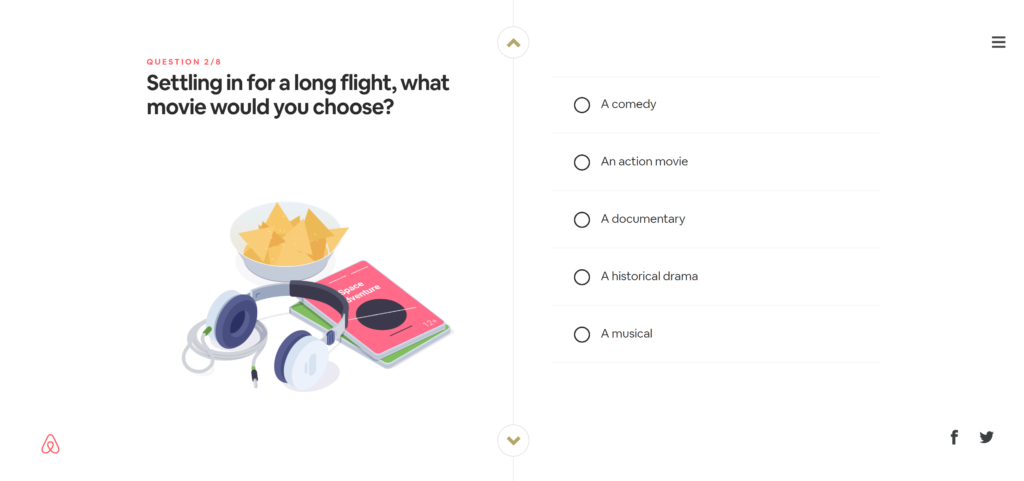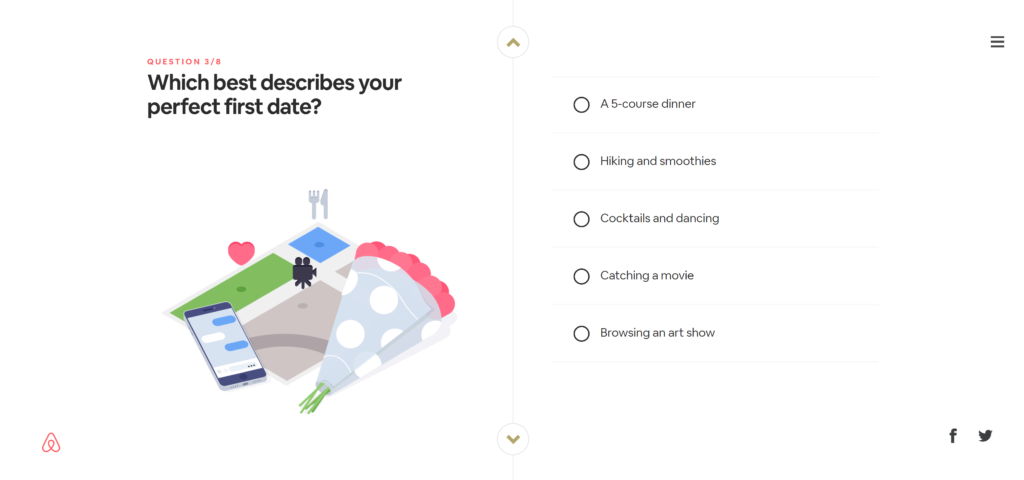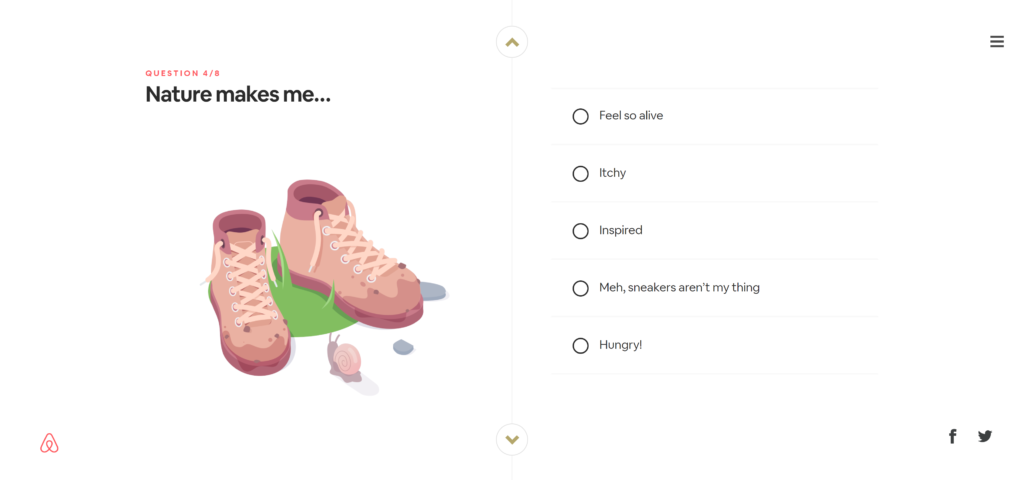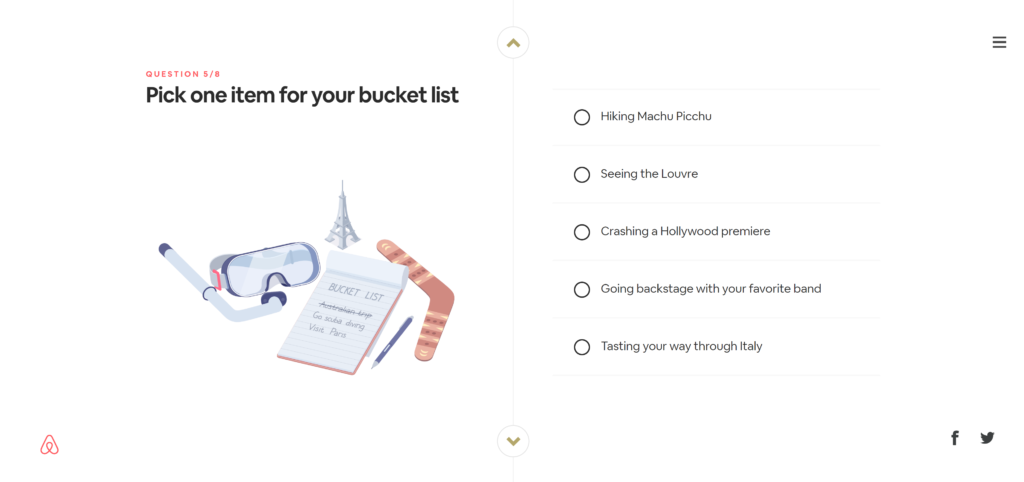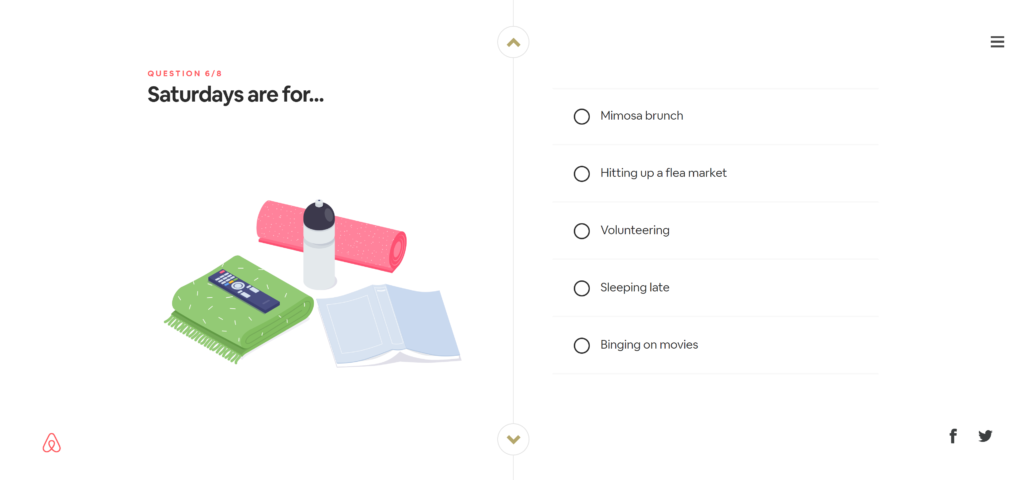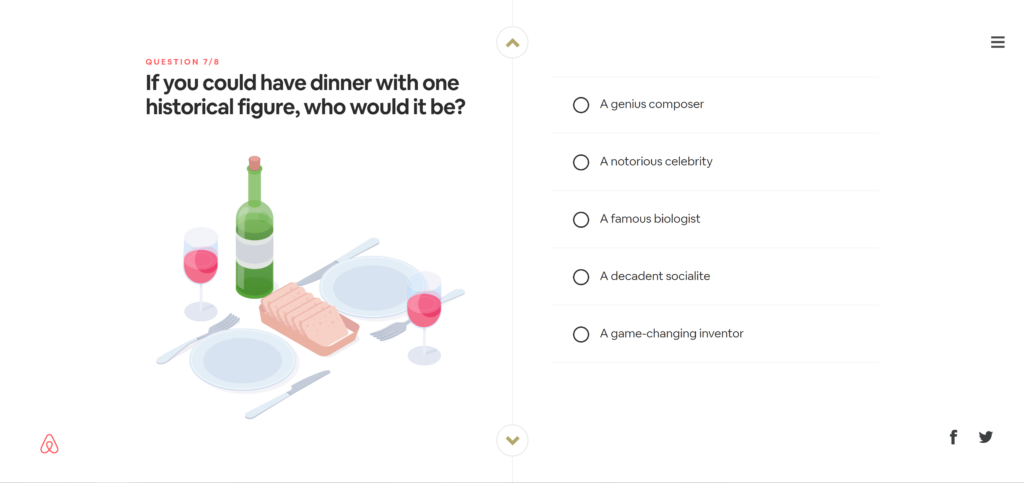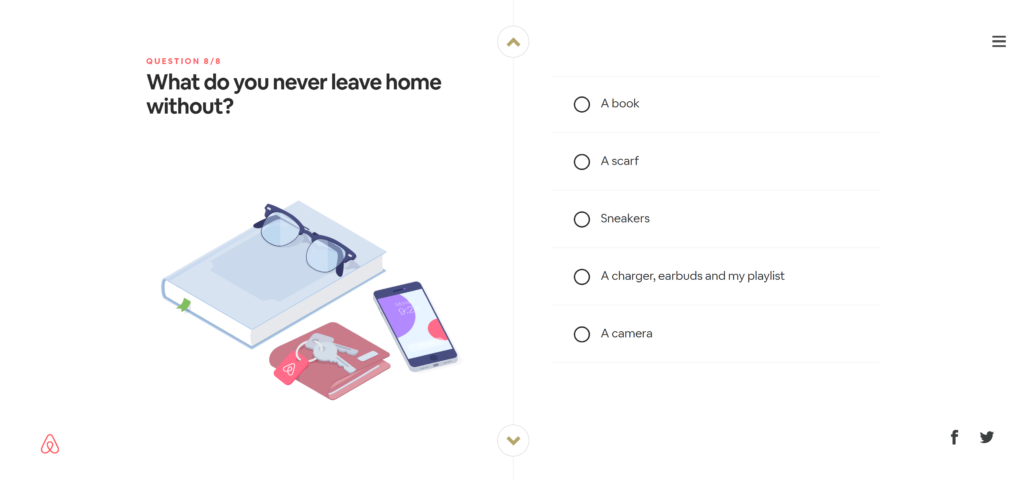 Where to go next? It's a question that many people struggle with when they are deciding their next city trip or holiday. That's why Airbnb decided to make a quiz that matches your travel personality with a destination.
By answering a set of 8 questions, Airbnb is able to learn about your travel style. Whether you are a Time Traveler, a Bon Vivant or a Maestro (how shareable are these names?!), they can make a suggestion on where to go and what to do there.
By showing beautiful photography and inspiring information about your suggested destination, the goal of their quiz is mainly to make you dream of your next holiday. But they also added smart call to actions in the mix like 'Book a listing' or 'Book an experience' to grow their own business.
Warby Parker - Eyewear for you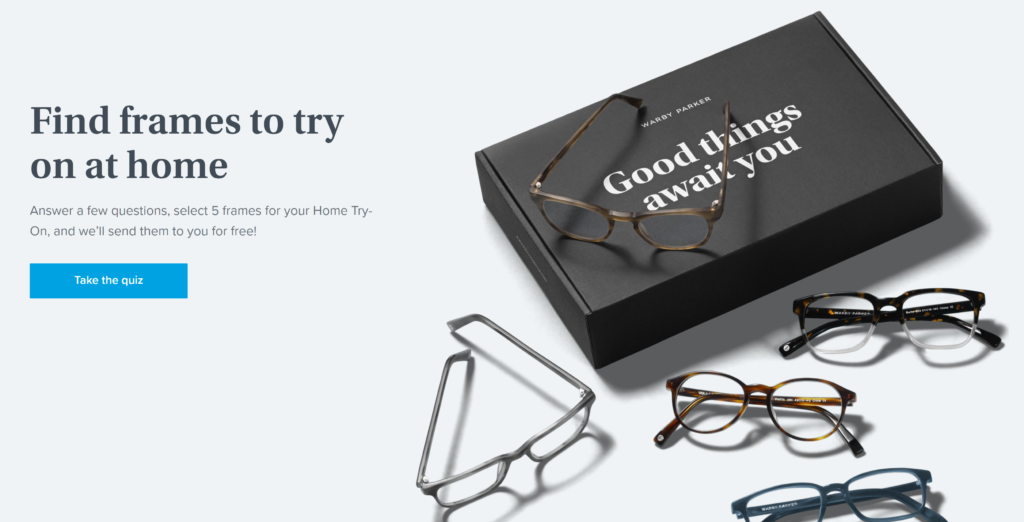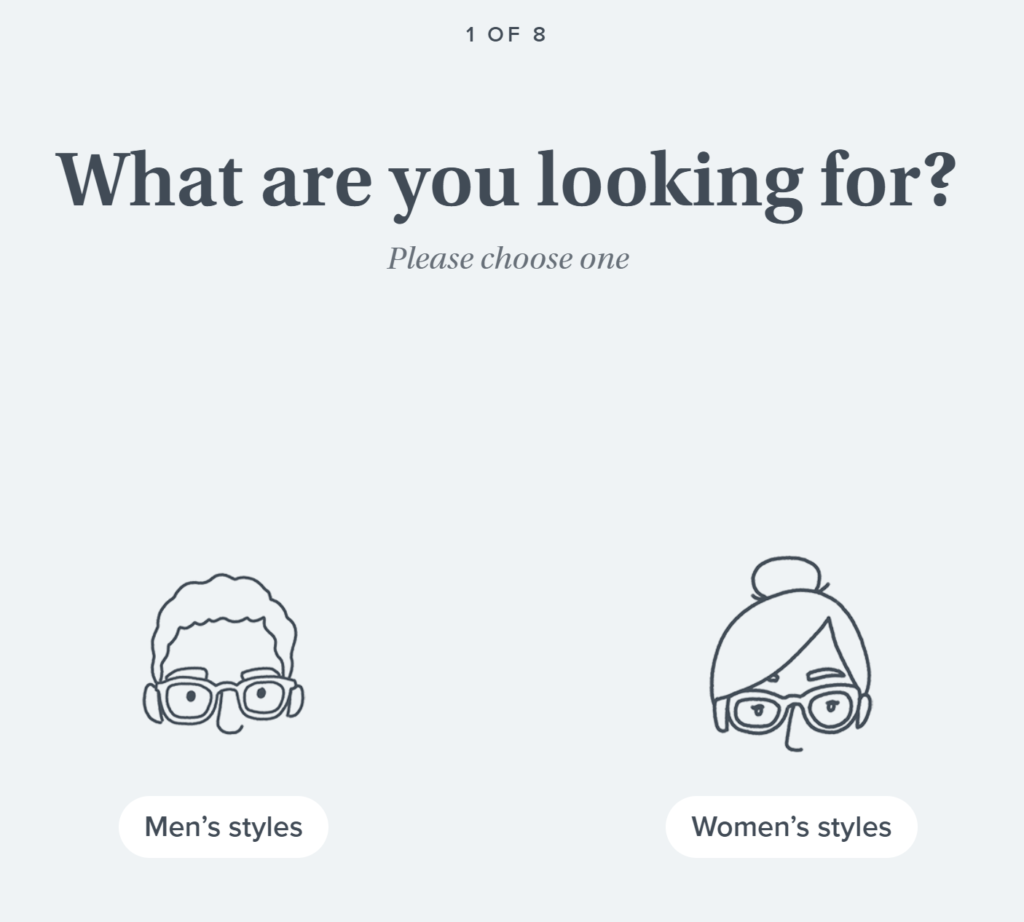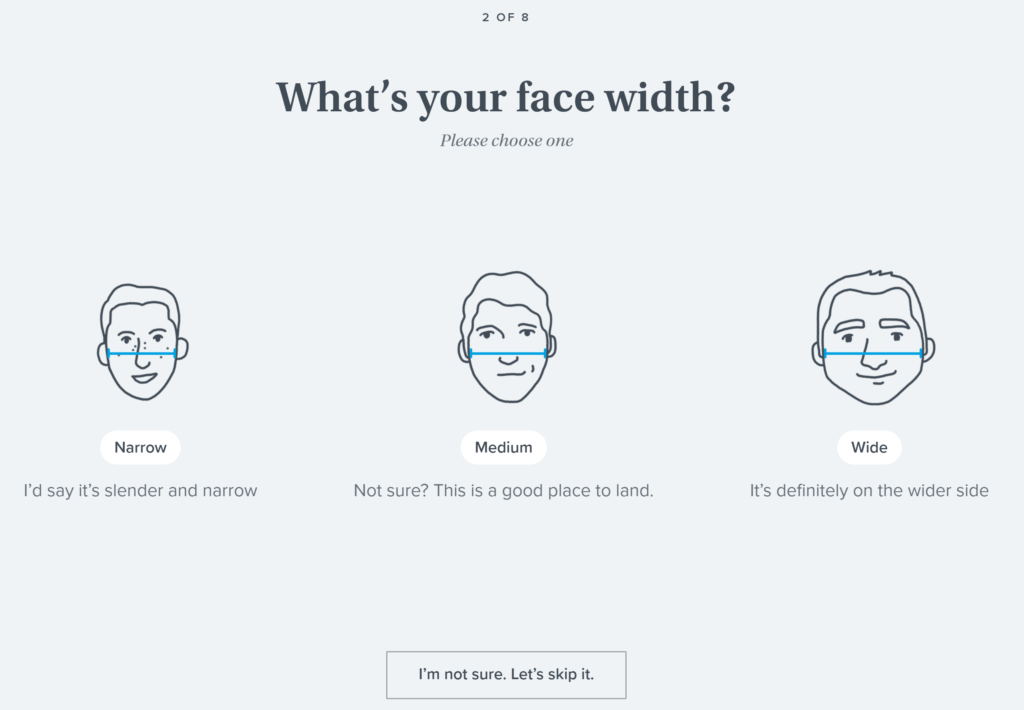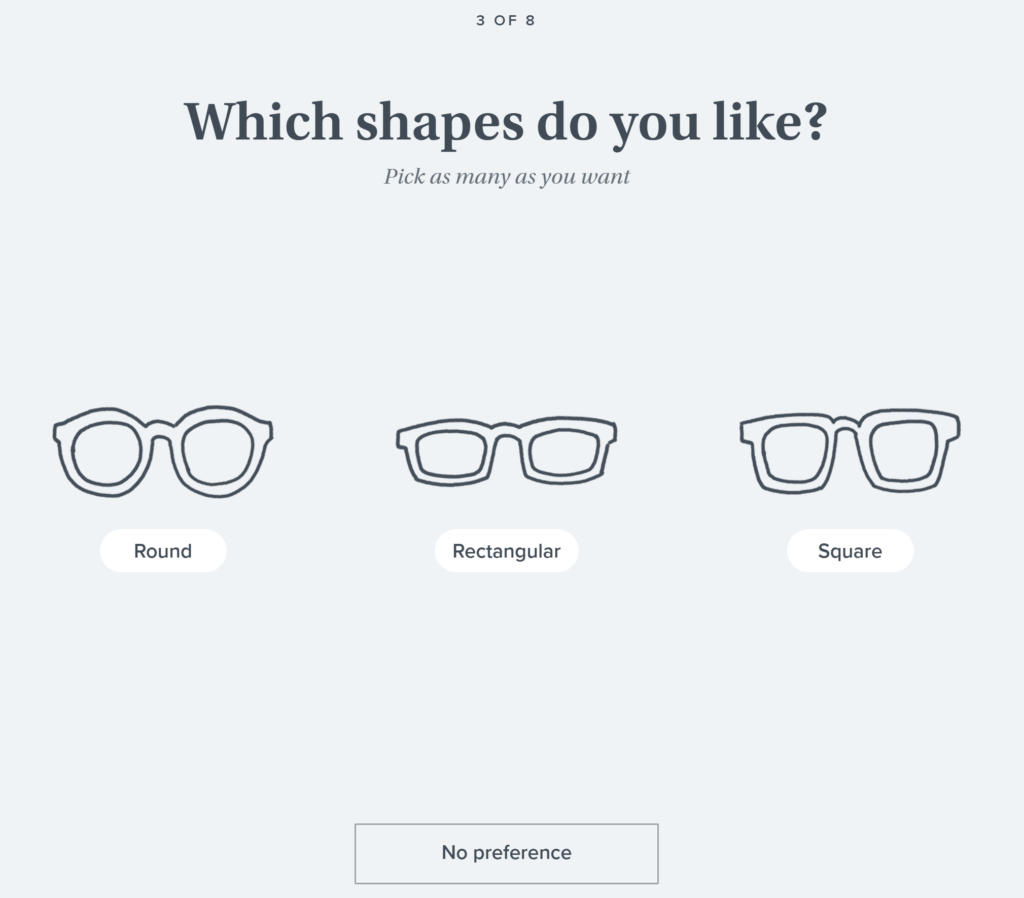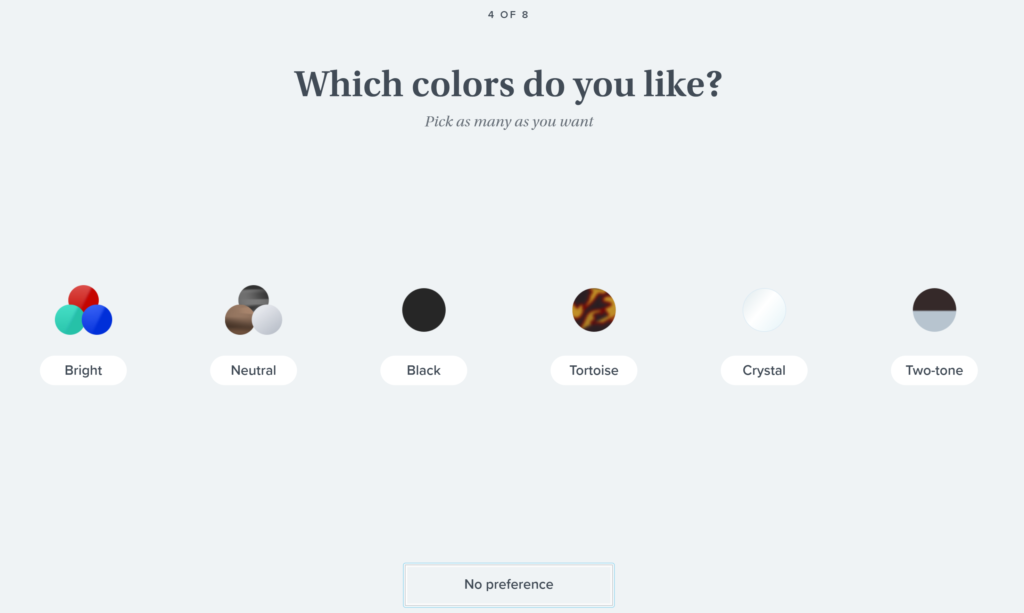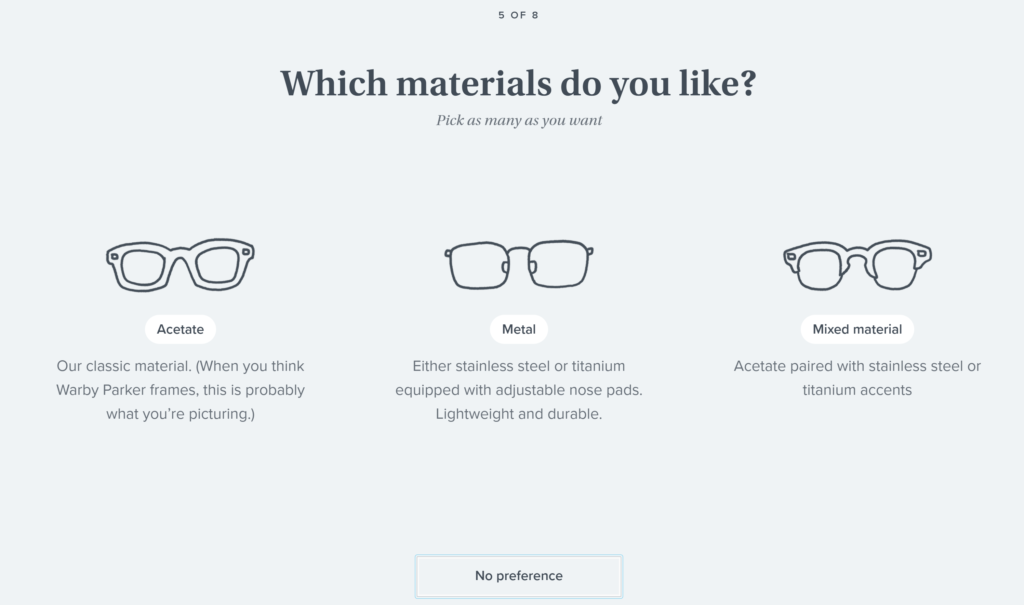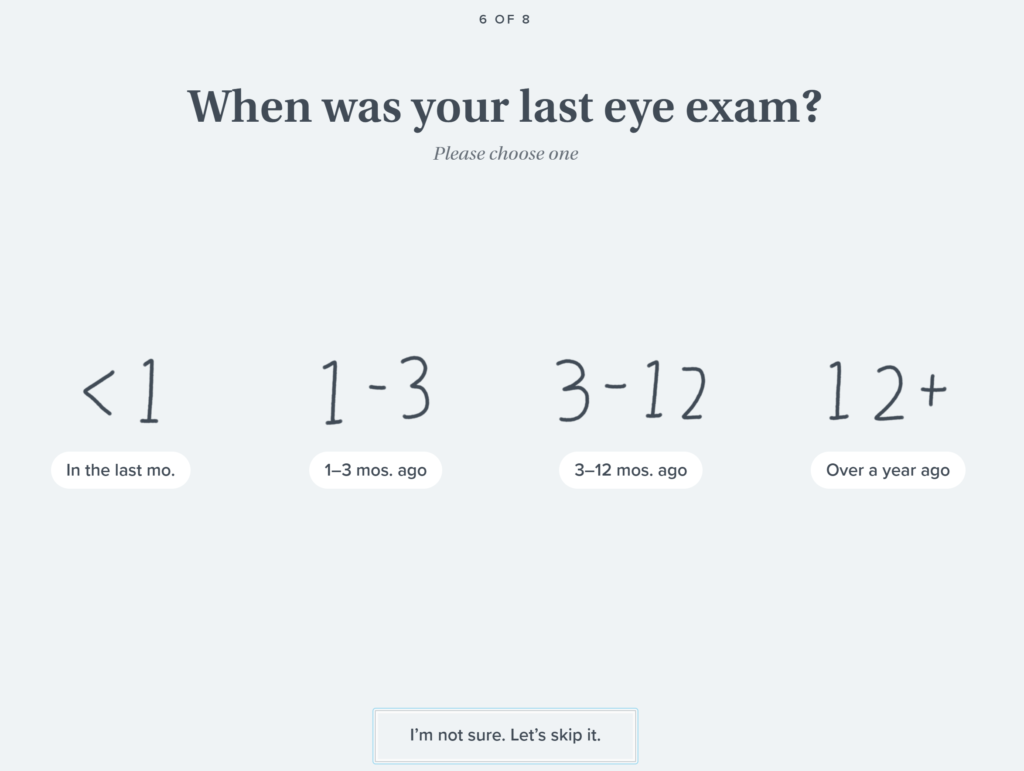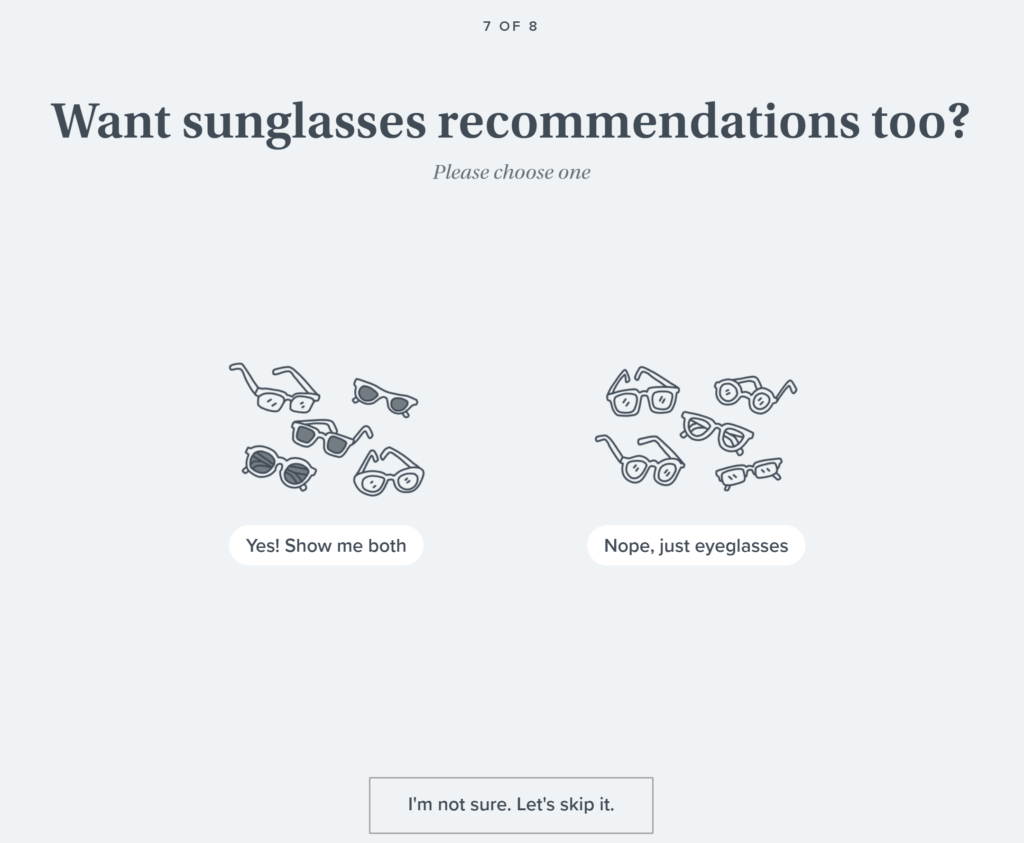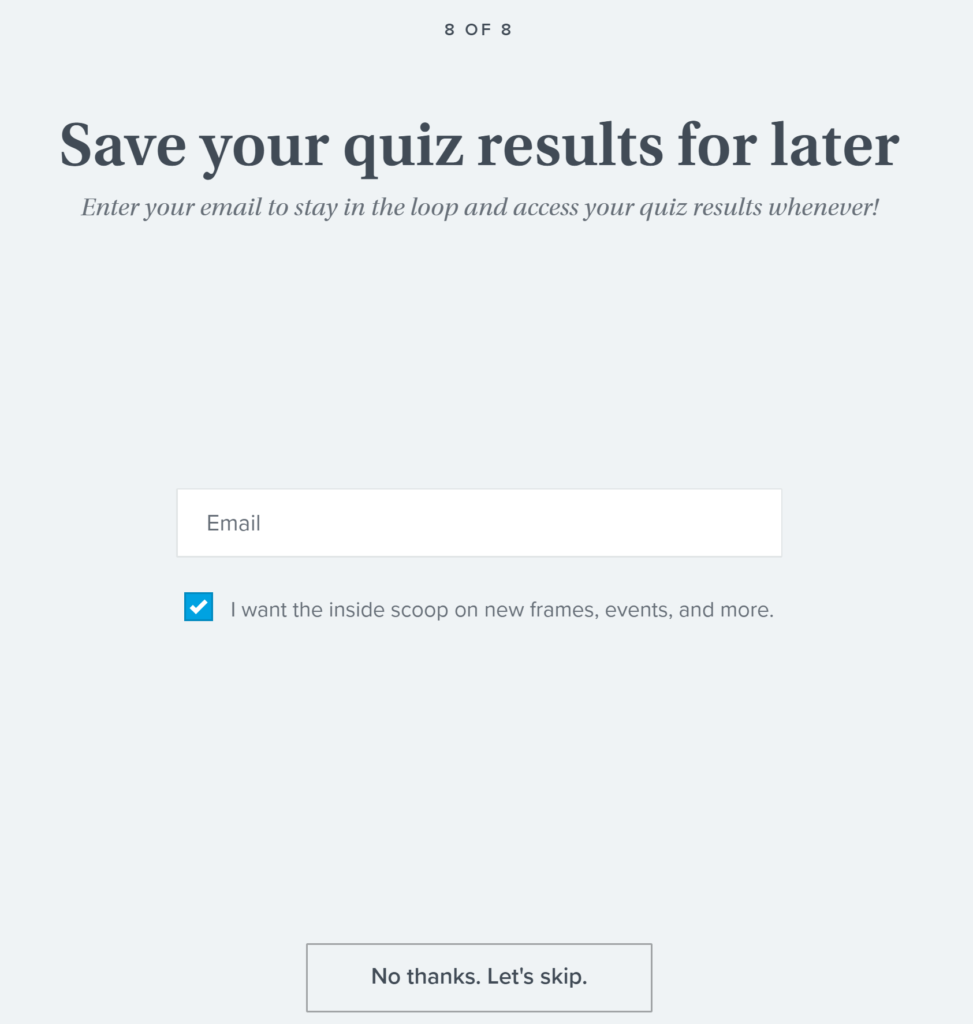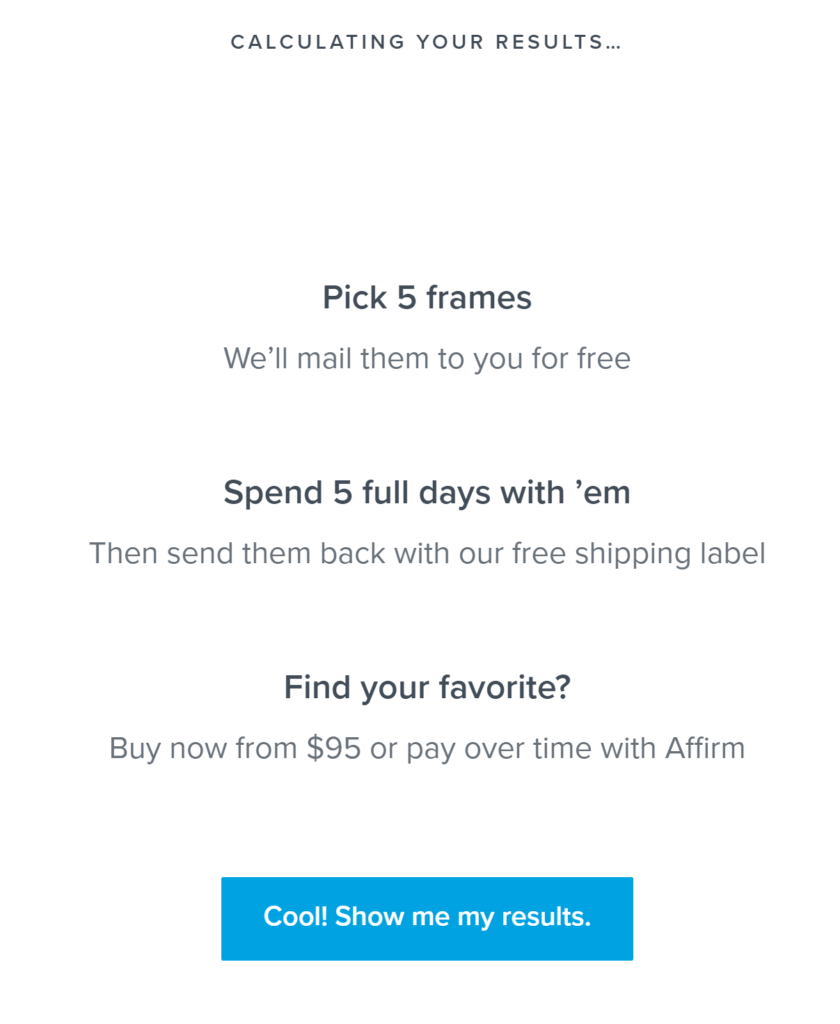 You want to buy a new pair of glasses but you're not sure about what kind of frame? Warby Parker gets it. Which is why they made a preference quiz for you. They don't just want to know about your face size, but also what colors and materials you like, and when you had your last eye exam.
They show a subscription form to their newsletter but you don't need to fill it out if you're not interested.
While waiting for the results to pop up, they incorporated a waiting page that re-enforces their service advantages. Smart!
The quiz result shows your personal selection of frames. You can select 5 pairs and they will ship it to you for free. You can then try them out for 5 days before you decide to buy.
Instead of just showing the eyeglasses, they added a detailed explanation how their service works and what the advantages are.
Campaign Monitor - How does your email marketing stack up?


This knowledge quiz from email service provider Campaign Monitor is a great example of how to attract and profile your target audience.
By taking the online quiz, you (and they) get insight in how well you are doing email marketing. With traditional, static lead magnets (such as whitepapers or case studies), it would take several contact moments to gather this amount of business information. But with this interactive quiz, they get the full monty right from the start. Bingo!
The result page shows the good and the can-do-better aspects of your email marketing program and offers links to relevant articles on their blog. A great way to raise brand awareness and position themselves as industry leaders.
They ask you to leave your contact information but you are not required to subscribe to their newsletter. Although, in this case, subscribing to their newsletter and getting more actionable tips and advice on how to improve your email marketing would make total sense.
What do you think? Would a quiz be a valuable addition to your business?
Looking forward to your thoughts.