Standing out in the inbox and getting great results from email marketing requires more than a blast-to-all approach. The keyword in any successful email marketing campaign is relevance.
And how do you become relevant? By getting to know your audience, understanding their preferences and personalizing your messages.
Personalization – it is not about first/last name. It's about relevant content.
This post shows our selection of 6 brands that go beyond first name personalization. They went the extra mile to understand their audience and used this knowledge in their email campaigns to create relevant masterpieces.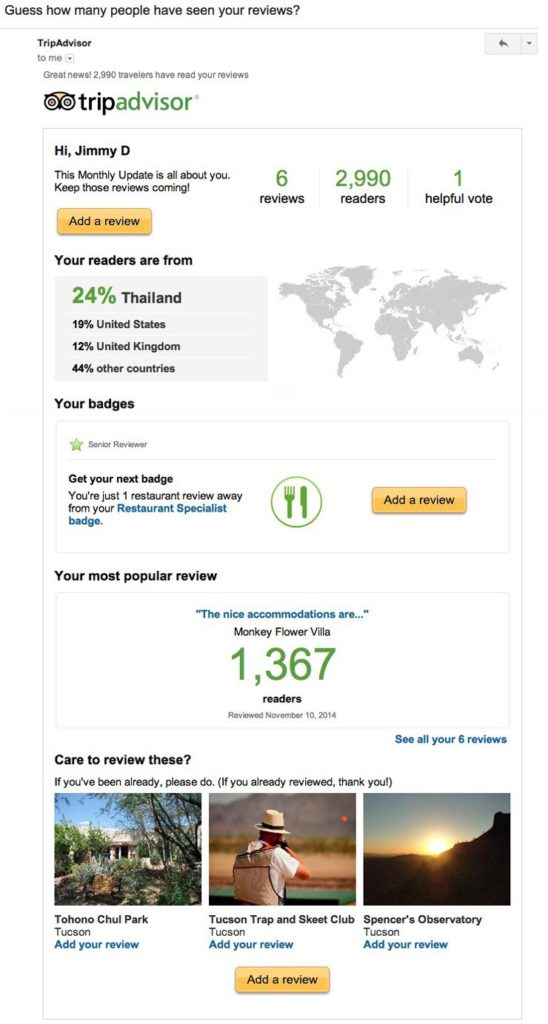 TripAdvisor is one of those brands that rigorously tracks your online behavior:
What have you been looking at on their website?
Where did you go on holiday?
How many reviews have you given?
Did or didn't you engage with their previous emails?
Have your friends been active on TripAdvisor?
This means they are able to meet their reader's needs and offer a personalized and relevant customer experience. In the end, it's all about relevant communication that takes preferences and previous engagement into account. This to prevent generic messages that totally miss the point.
This monthly report email is a beautiful example of hyper-personalization in action. It uses customer data, adds context and a touch of gamification. Even though the email looks like a report, it's actually a clever way to keep you engaged.
The email has only one call to action: they want you to 'Add a review'. By using different angles to frame this call to action, there is a better chance that the recipient will actually leave another review.
Which data was used in this email campaign?
First name
Amount of reviews
Total amount of readers
Total amount of helpful votes
Geographic location of readers
Reviewer status
Amount of reviews needed to earn next badge
Amount of readers of your most popular review
Predictive data of places you might have visited (based on your search history)

UncommonGoods respects their users' browsing behavior by sending an email that features products which are similar to what the customer has been looking at. Smart move.
It's like walking into a store, looking at some shoes while the shop assistant analyzes what you're looking for and then gives you some spot on recommendations. It appreciated and it just feels more natural and relevant than when the shop assistant would've started showing you random shoes. 
The copy in the email is on point and lets you know that these items are specifically selected for you. Also, the design is very clean and simple which makes it enjoyable to look at. Well done!
Which data was used in this email campaign?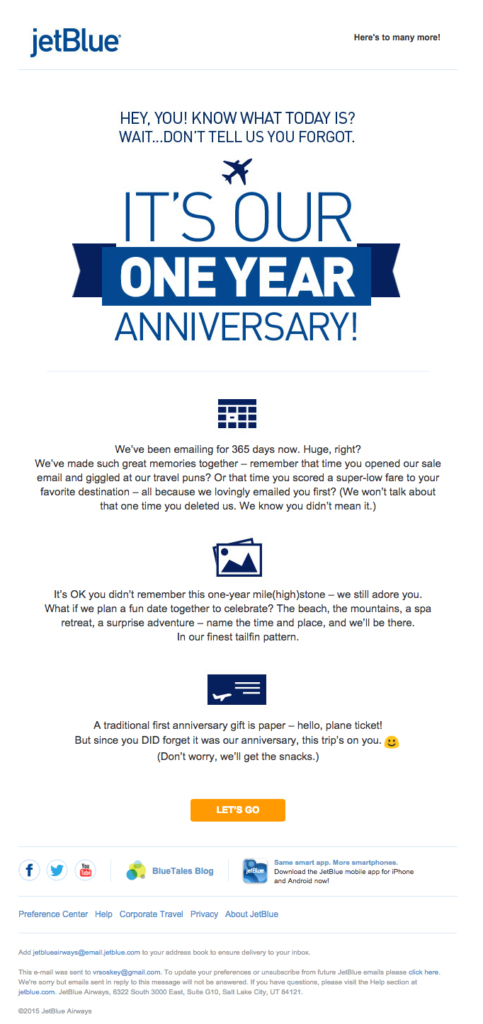 JetBlue created an email based on the account creation date of their customers to celebrate their one-year anniversary. What a fun and surprising way to stimulate engagement with their brand. It's also a unique way to motivate their readers to celebrate by going on another trip.
Which data was used in this email campaign?
Account creation date (email is triggered one year after that date)
The same setup can be used for birthday emails, subscription renewal alerts or repurchase alerts.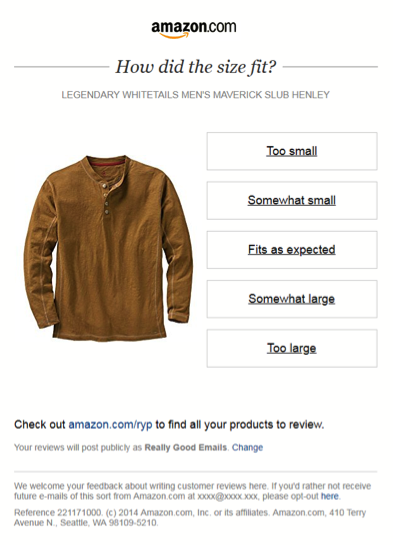 Amazon is without a doubt the ultimate master of personalization. They gather tons of customer data and use it to provide a relevant and personalized shopping experience.
By analyzing their users' interests, past purchases, amount spent, location, age,… they are able to create specific email content that resonates with their audiences.
In the email above, Amazon asks their customer to review an item they have recently purchased. It's a timely and relevant email that creates a deeper connection with the customer and builds trust.
With the data generated by this email they can create an even better online customer experience by showing other people how this clothing item fits. This way they remove another barrier of online shopping ("Will this item fit me?"). Well done!
Which data was used in this email campaign?
Want to read an in-depth analysis of how Amazon uses email marketing to create an amazing customer experience? Read this article.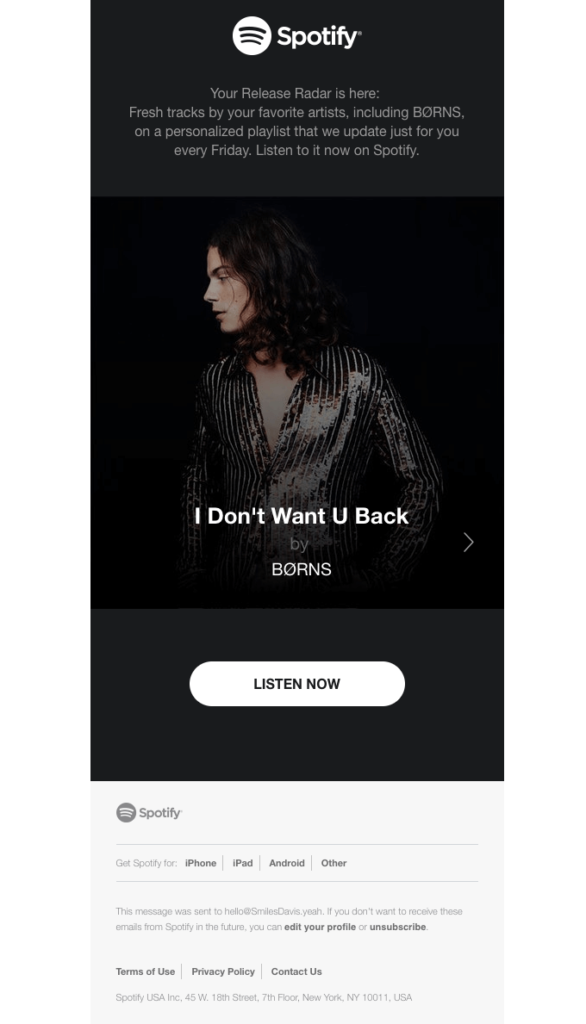 An ultra short, yet hyper-focused email from Spotify. They know which artists their customers like so their recommendations are on point. The key image is dynamic so each user would receive another version of this email.
Which data was used in this email campaign?
Previous listening behavior
Predictive data of artists you might like

Yes, we kept the best for last.
For their 20th birthday, easyJet used every scrap of information they could find about their customers. They took them on a nostalgic ride and highlighted some special moments.
By using dynamic data, images and text, they created an inspiring, fun and engaging email that brought tears to the eyes of their customers (ok, that's an overstatement but really… it's an awesome email).
They finish off this email with a personal recommendation based on previous trips and a strong call to action.
Which data was used in this email campaign?
First name
Date first trip
Location first trip
Total km travelled with easyJet
Total trips
Total amount of countries
% of window seat selection
Date last trip
Location last trip
Days since last trip
Predictive trip location based on previous trips
So, how do you get started with personalization?
We understand that gathering, structuring and using customer data to create hyper-personalized email campaigns isn't something you do overnight. Depending on the size of your business, your current systems and the internal policies regarding data flows and data sharing between departments, it might even take several weeks or months before you actually get access to the right data. So yes, getting to the point of hyper-personalization might be a hard and frustrating task.
But it is absolutely worth it. Not only for the results of your email marketing, but for your marketing results in general.
It's important to remember that every (small) step counts. Getting access to even one extra strategic data point can have a massive impact on your email marketing results.
You don't need tons of customer data to provide a relevant experience, but you do need the right data.
Start capturing the right key data points about your customers. What those key data points are, are up to you to decide because they differ from business to business.
What are the type of questions you ask your customers when they come to your business? Those questions are often a good starting point to decide your key information.
Don't forget that personalization isn't about throwing this data back in the faces of your customers. It's about analyzing and utilizing this information to create smart recommendations, useful pointers or timely suggestions to them. Double points if you can do it in a fun and inspiring way (like the examples above).
We'd like to hear your personalization ideas. How is your business taking steps to create an inspirational and relevant emails for your customers?