Did you know people usually evaluate brands based on emotions instead of information? Especially positive emotions have a far greater influence on consumer loyalty. And what is a more powerful positive emotion than humor. We enjoy things that make us laugh or smile because it makes us feel good. Besides, humor is a great way to bond with others.
A great aspect of humor is that it makes you more relatable. It increases trust with your (potential) customers and makes you look more human. So if your brand can hit that sweet spot with your readers you're far more likely to create a deeper, personal connection.
"More than 50% of men and women agree that humor is acceptable in an email."
Another big advantage to using humor in your email marketing is that it grabs people's attention. In fact, if you're doing it the right way it can make your readers more interested and engaged. Ultimately, it can even make you readers convert.
How to use humor in emails
We all know the boring emails we receive in our inbox every day. So why not occasionally spice things up. After all, it's all about having interaction with your readers. And just like in everyday life, you would crack a few jokes every now and then, no?
"When a brand shows that it doesn't always take itself too seriously, it's a powerful way to demonstrate authenticity and confidence, as well as connect with your community."
But before you start writing random puns and collecting all kinds of funny memes, it's crucial to think about how you would implement humor in your emails. In the end, it all has to have a goal. Humor is just another method to encourage your readers to take a certain action.
Obviously, you don't want to be the brand that tries too hard. So first of all, you need to realize if a certain type of humor fits with your brand. If your communication style is rather serious and you have to change your whole language to implement humor, you might want to reconsider it.
Secondly, it's important to always stay relevant. You shouldn't make jokes about something that has nothing to do with your brand or your industry.
In general it is always the best idea to test, test, test. Understand your audience and start with some subtle humor here and there. Are your funny emails performing better than others? Perfect! Otherwise, you might consider trying a different tactic. With A/B testing, for example, you could try out a humorous tone versus a more serious tone (or two different types of humor). This will give you a lot of insights on how your readers perceive your kind of humor.
Do your consumers think it's funny?
Humor can be a tricky one. Remember the times you tried to make a joke and people weren't laughing? Yes, it can be pretty painful. Overall, when you know and understand your audience, you'll realize what works and what doesn't.
But like we said before, you don't want to try too hard. People see through it and in this digital age it is very likely that your humor backfires.
This happened to West Elm, a home decor store, that sent out an email for April Fools' Day. The subject line was "Thanks for your order!" Now, the body of the email made it clear that it was a joke but it was a very risky move. Especially since we live in an age where people's credit card information can get stolen. A lot of people didn't find it funny at all and turned to social media to express their disapprovement.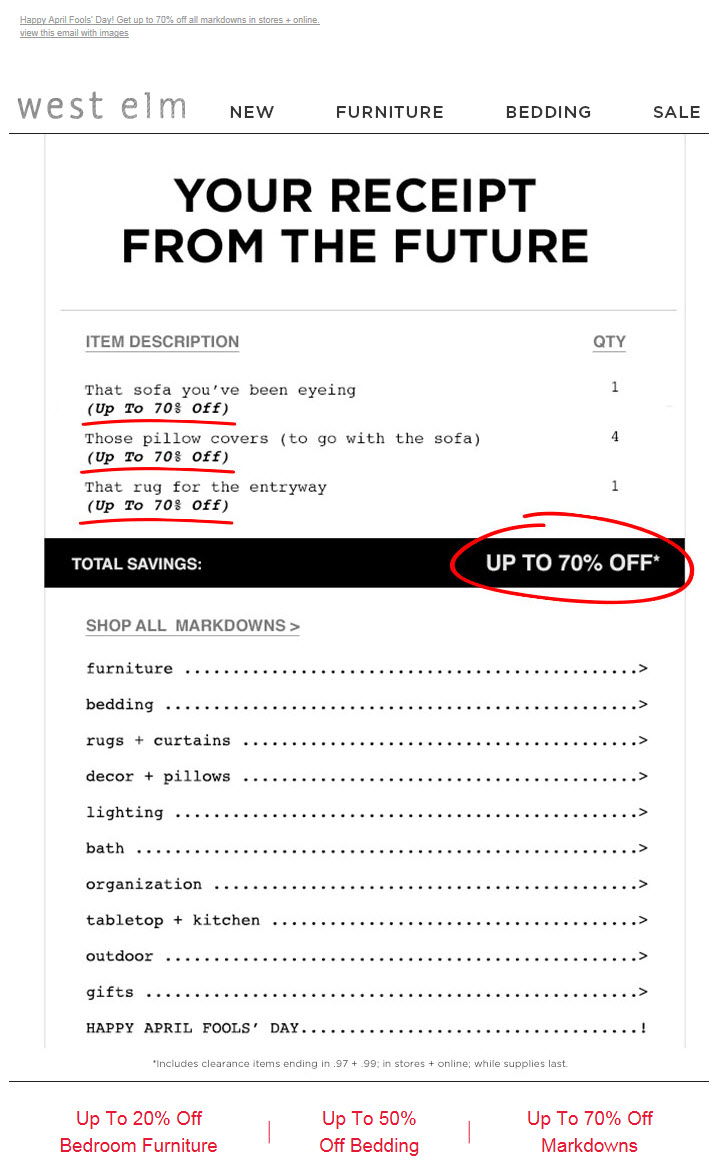 Keep in mind that you don't have to include humor in all your campaigns. You still need a proper strategy with your overall email marketing. Plus, the key to a good joke is the element of surprise!
Luckily, there are tons of examples out there of brands that implement humor in just the right way.
Nerd Fitness - Sign up form
When it comes to implementing humor in your email marketing you can already start with your sign up form. For example, this one from Nerd Fitness. His superhero pose along with the dark side reference makes this sign up form perfectly aligned with his branding and audience.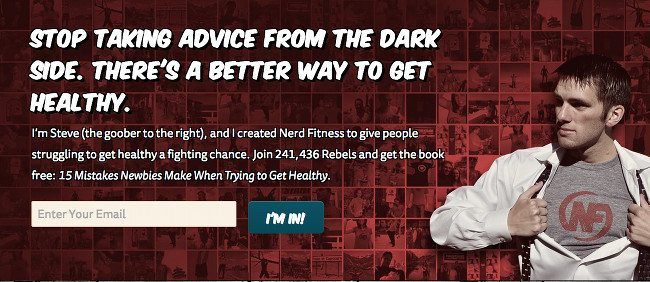 Another method to use humor is with your subject lines. This welcome email by Tictail is a great one. The phrase 'Boom shakalak' is a fun way to express their happiness with a new subscriber!

ModCloth and Whisky Loot - Email body copy
The body text of your emails is of course another perfect place to insert humor. This is used a lot with campaign emails, for example with certain holidays. Retailer ModCloth did this perfectly with a few fun wordplays.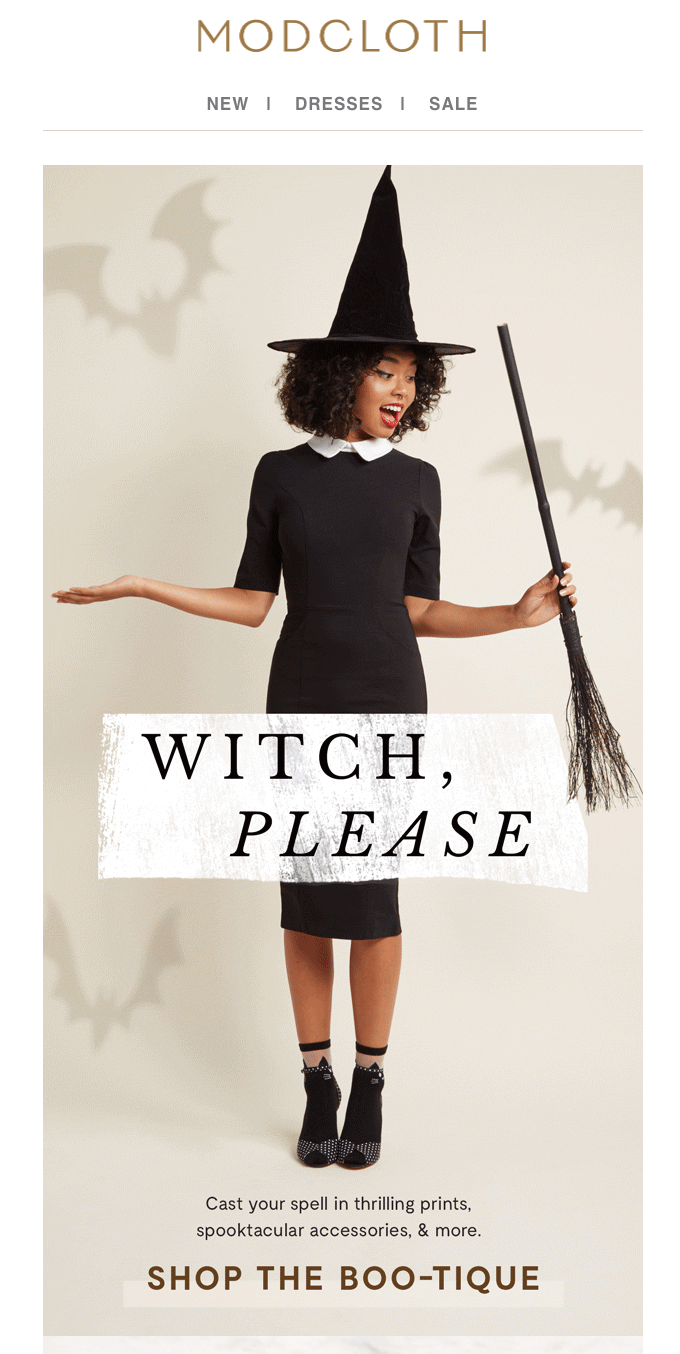 But you can also play the fun card throughout your entire communication. We loved this cart abandonment email by Whisky Loot. It's a fantastic method to convince people to buy what they left in their shopping cart.

A last place to use humor is when people try to unsubscribe from your email list. Unsubscribers aren't necessarily a bad thing, but you can still express your sadness with some humor. Have a look at this movie Hubspot made. This is so unique and who knows, people might reconsider unsubscribing.
So… how are you going to insert a touch of humor in your email marketing? We'd love to hear your ideas in the comment section below.