The Super Bowl is by far the biggest football event in America. This year, on the 3rd of february, families and friends huddle together in front of the TV to watch the game of all games.
What has this to do with email marketing, you ask?
Well, because this event isn't just one of the biggest sport events of the year, but also one of the biggest marketing events.
Brands – big and small – understand the power of a special day like this and see the opportunity to leverage this event to drive more conversions from their emails.
In this post, we analyze some Super Bowl email campaigns and learn how brands score their email marketing touchdown.
The tips in this post don't only apply to the Super Bowl but can be used for other holidays or big events.
Think about the World Cup, Valentine's Day, St.-Patricks Day, Mother's Day, the end of the summer holidays,…
1. Vosges Haute-Chocolate

Voges Haute Chocolate, a Chicago-based luxury chocolate maker, uses email marketing to send content about their bite-sized chocolate snacks. The perfect Super Bowl snack. 
The email message "Don't forget to invite chocolate to the party", is based on the insight that friends and families get together for the event and share food and drinks. And the snackable goodies from Vosges are just perfect for that. 
By adding recipes, they also provide cooking inspiration for those that want to get their hands dirty. 
A great example of relevant messaging.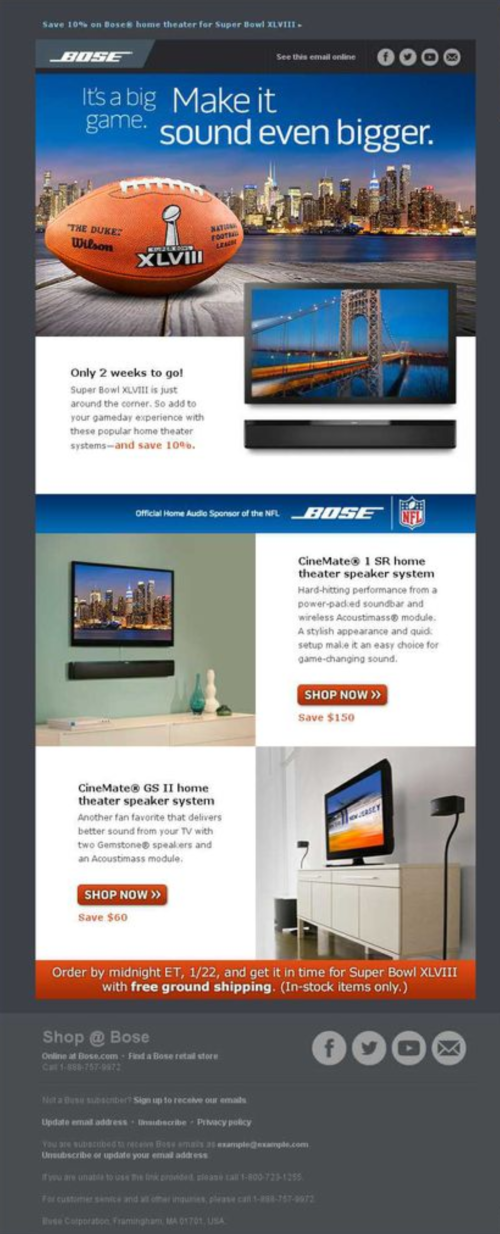 BOSE, the famous electronics and sound system brand scores a touchdown with this email.
They know that everyone will be in front of a TV screen. So a lot of people might be looking to up their TV game and get a new sound system.
2 weeks before the big day, they sent an email with the message "It's a big game. Make it sound even bigger". Just enough time so their subscribers can make an order and receive their new sound system before the big moment.
By adding a 10% discount and free delivery, they offer a deal that's hard to say 'no' to.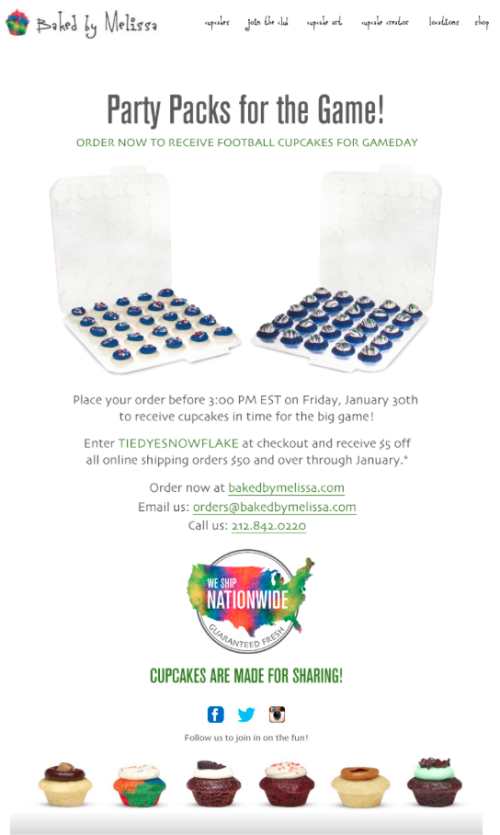 Baked By Melissa decided to feature Super Bowl-themed cupcake Party Packs in this email.
By combining a discount deal and an order deadline, the company makes sure that anyone who's looking for last-minute snack packs would be able to get their cupcake fix right in time for the game.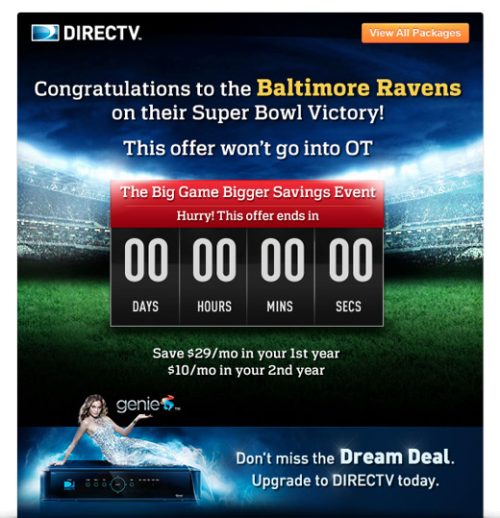 DIRECTV keeps the momentum after the game with this football-themed email. 
We believe they have prepared two versions of this email in advance (one for each team) so they were prepared to send out fast once the winner was known. Very smart!
By adding a countdown timer they create urgency and urge people to get this dream deal now!
Add context-based value to your emails
The examples above show that adding value rather than interrupting a customer's experience is a bulletproof way to get huge email engagement from your subscribers during a big event, like the Super Bowl.
By understanding how customers behave before, during and after a big event or a holiday, you can time your email messages more precisely. Using these insights smartly when crafting your email message makes sure that your emails get opened, read and clicked.

Mobile-friendly email templates are your friend
Moveable Ink has conducted an interesting study that looks into the use of email during Super Bowl sunday.
Open rates remained steady but they found that emails that are read during the weekend are opened much more on mobile devices rather than desktop devices.
This is a good reminder that using a responsive email template that is optimized for all devices is an absolute must.